Są w naszej kulturze archetypy, które świadomie lub nie, przenosimy na grunt mody. Od kilku sezonów na wybiegach i ulicach triumfy świecą inspiracje Dzikim Zachodem. Moja młodzieńcza miłość do Lucky Lucka i Clinta Eastwooda również znalazła odzwierciedlenie w garderobie – wysłużone skórzane kurtki, na których widać ząb czasu, pistol boots od Acne Studios czy inne akcesoria, w tym kapelusze, które zaczęłam nosić na co dzień regularnie stosunkowo niedawno – od momentu, gdy poznałam Maćka. Jego pasja jest tak ogromna, że zaszczepił we mnie entuzjazm i zamiłowanie do tej części garderoby. Po latach eksperymentów z fasonami, kolorami i stylami wiem jedno, dobrać odpowiedni kapelusz nie jest łatwo. W każdej fedorze czułam się jak Nelly Rokita. Przez jakiś czas nosiłam czarny floppy, jednak to nadal nie było to. Przełom nastąpił w momencie, gdy dostałam od męża swojego pierwszego Stetsona. Słomkowy Stratoliner przywrócił mi wiarę w perfekcyjnie dopasowane nakrycie głowy. Skórzany potnik idealnie przylega do głowy, do tego stopnia, iż zapominam, że mam go na sobie. Dzięki Stetsonowi przekonałam się na własnej skórze, że kapelusz może leżeć doskonale, jak dobrze skrojony garnitur, sukienka czy buty. Strzałem w dziesiątkę okazały się kapelusze bespoke, wykonywane przez Maćka. Teraz, kiedy mam osobistego, uzdolnionego kapelusznika i spersonalizowany blok w moim rozmiarze, poza wygodnym nakryciem głowy, mogę mieć każdy fason, jaki tylko sobie zamarzę. Pierwszy kapelusz na miarę, który wykonał dla mnie Maciek, ze względu na barwę, noszę tylko na specjalne okazje i do konkretnej kolorystyki ubrań. Bardzo chciałam mieć coś uniwersalnego. Od dawna najbardziej podobały mi się kapelusze w stylu amiszów lub Dzikiego Zachodu.
There are archetypes in our culture which are being, consciously or not, reflected in fashion. For the past few seasons the western inspirations are ruling on the catwalks and streets. My youthful love to Lucky Luck and Clint Eastwood left its footprint on my wardrobe – worn leather jackets, pistol boots from Acne Studios or the other accessories, including hats, which I started to wear everyday pretty recently since I met Maciek. His great passion got me hooked with enthusiasm and fondness for this part of wardrobe. After years of experiments with colours and styles I know one thing – picking the right hat for you is not easy. Wearing a fedora, I felt like Nelly Rokita. For a while I had floppy hat, but this wasn't it. True breakthrough was Hemp Stetson Stratoliner, that I got from my husband – It restored my faith in perfect headgear. The leather sweatband sits so well on my head, that I keep forgetting that I have it on. Thanks to this Stetson I realized that hat can fit as good as well tailored suit, dress or shoes. But it was Maciek's bespoke hat that turned out to be the home run. Now when I have a personal, skilled hat maker and a hatblock in my size, beside from comfortable headgear I can have any style I like. First bespoke hat which Maciek made for me I wear only on special occasions with certain clothes due to it's colour. I have dreamed about having something more versatile and I always liked the style of Amish and old west style hats.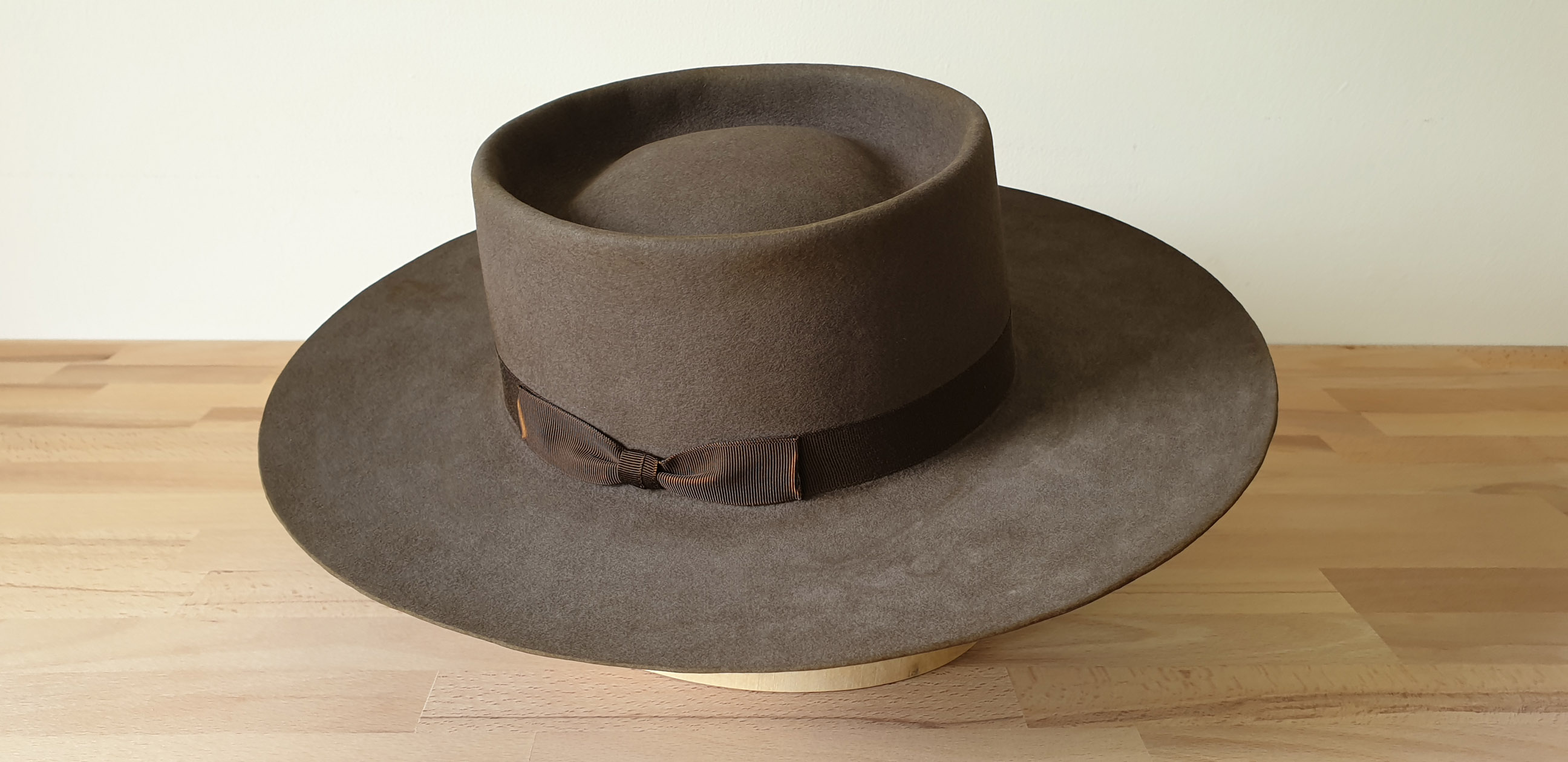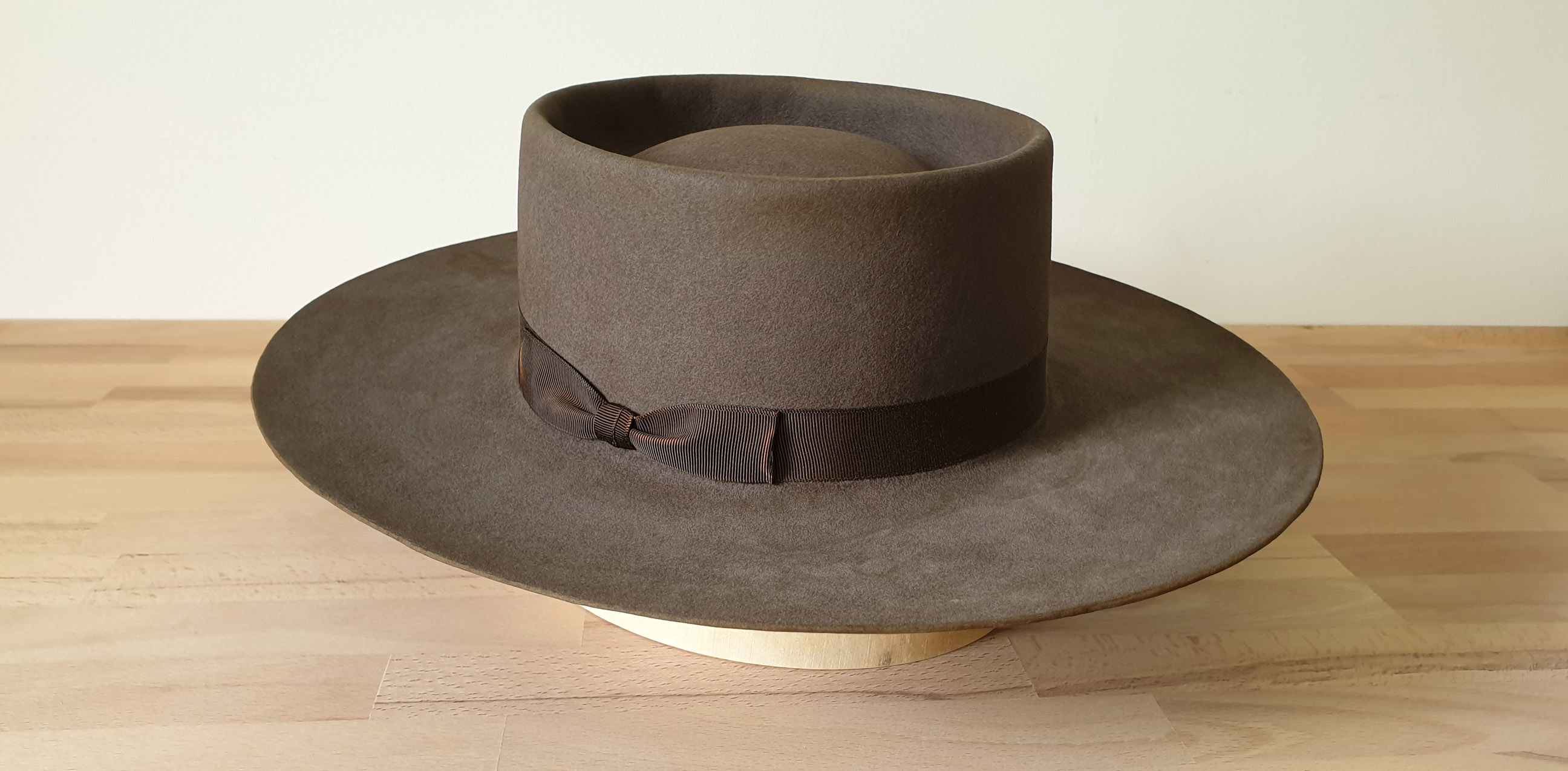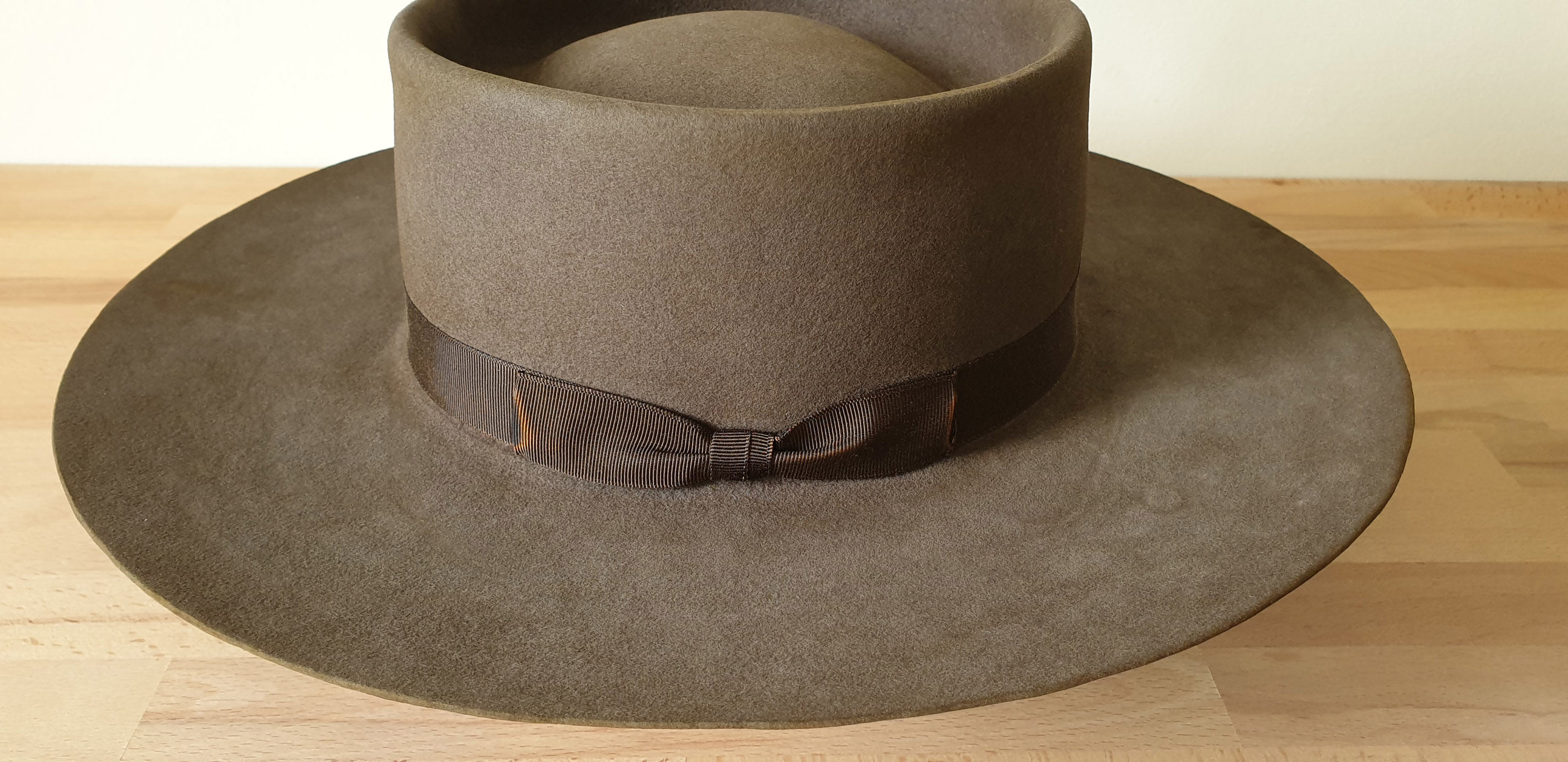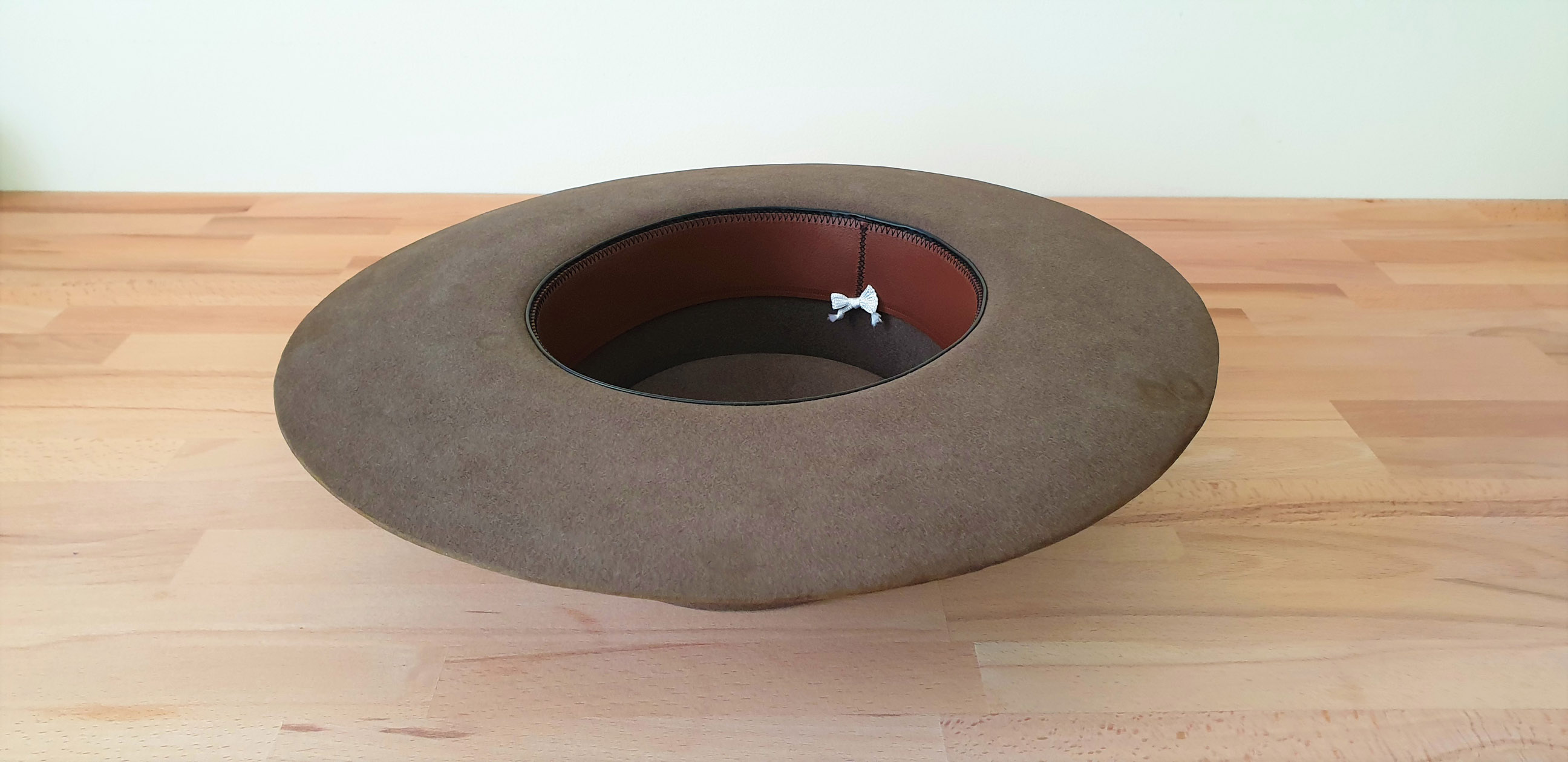 Najważniejszą inspiracją do powstania mojego najnowszego nakrycia głowy był film "Prawdziwe męstwo", który zrobił na mnie ogromne wrażenie. Główna bohaterka, rezolutna i niezwykle dojrzała, jak na swój wiek, 14-letnia Mattie Ross, grana przez Hailee Steinfeld, w kluczowym momencie przywdziewa płaszcz i kapelusz swojego ojca, wyrusza z szeryfem Cogburnem (Jeff Bridges), w pościg za zabójcą ojca i za wszelką cenę pragnie pomścić śmierć głowy rodziny. Przy delikatnej urodzie, subtelnych rysach twarzy i drobnej sylwetce – męski, znoszony kapelusz wygląda na niej niezwykle. Ten obraz kilka lat temu wrył się w moją pamięć tak głęboko, że zapragnęłam mieć podobne nakrycie głowy. Maciek zaprojektował kapelusz idealny – w starowesternowym stylu, brązowy, z szerokim rondem i koroną w kształcie telescope, który poza świetnym dopasowaniem, jest po prostu piękny. Spatynowany ogniem wygląda jak z poprzedniej epoki i przypomina mi wszystkie spaghetti westernowe stylizacje Clinta Eastwooda, "West World" czy właśnie dzielną nastolatkę ze wspomnianego filmu "Prawdziwe męstwo".
The greatest inspiration for creation of my new hat was movie "True Grit", which had a big impact on me. Main character, 14-year old Mattie Ross (Hailee Steinfeld) resolute and quite mature, puts on her father's hat and coat and goes on a journey alongside Sheriff Cogburne (Jeff Bridges) in order to avenge her fathers death and get his murder. With her delicate features and fine silhouette, the worn, men's cowboy hat looks amazing on her. This image stuck in my memory and I dreamed about having similar headgear. Maciek has made the perfect hat – old west style, brown with wide brim and telescope shaped crown, which besides perfect fit is simply beautiful. Aged with fire, look from the era gone by, reminds me of Clint Eastwood in spaghetti western trilogy, "West World" or brave teenage girl from mentioned "True Grit".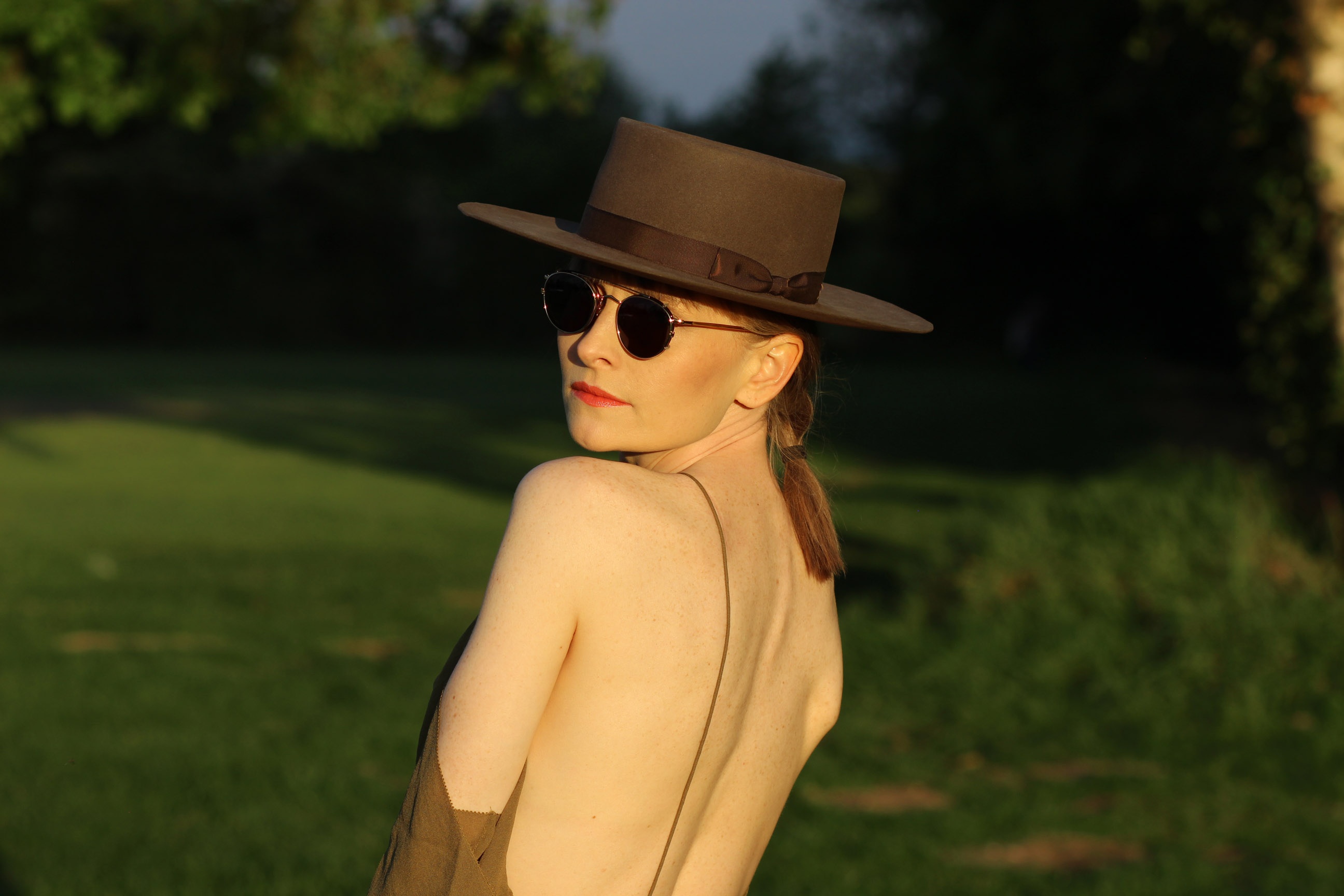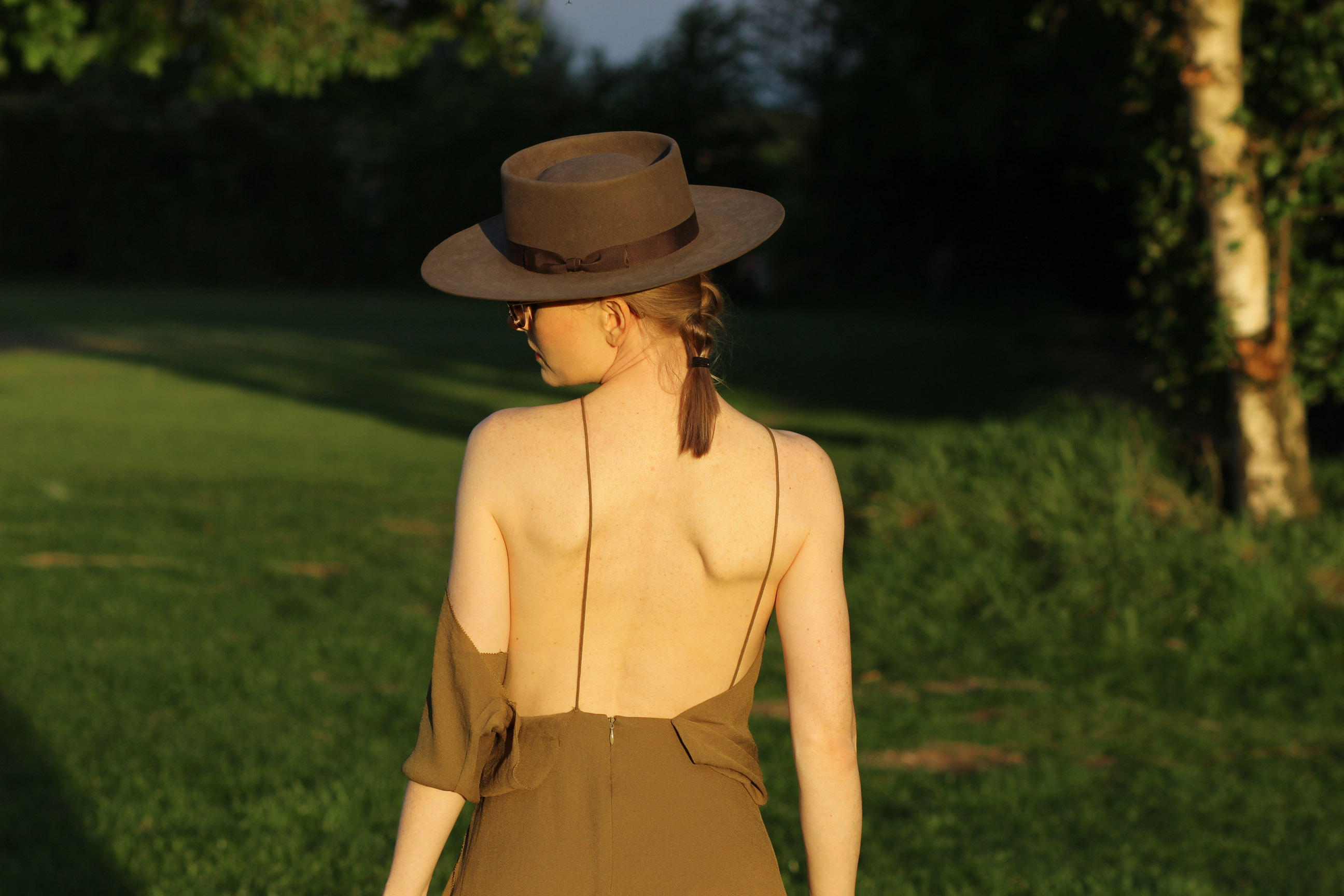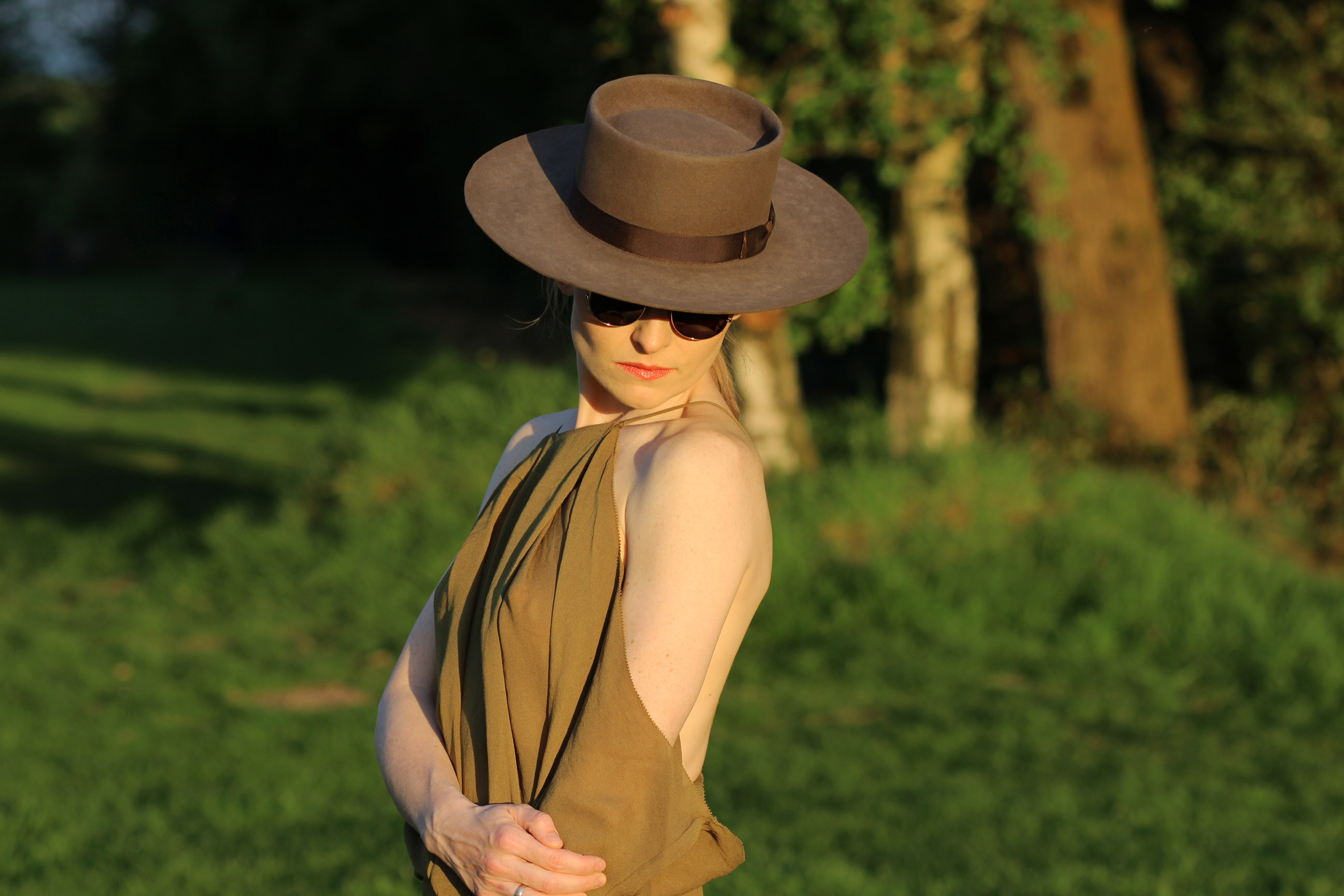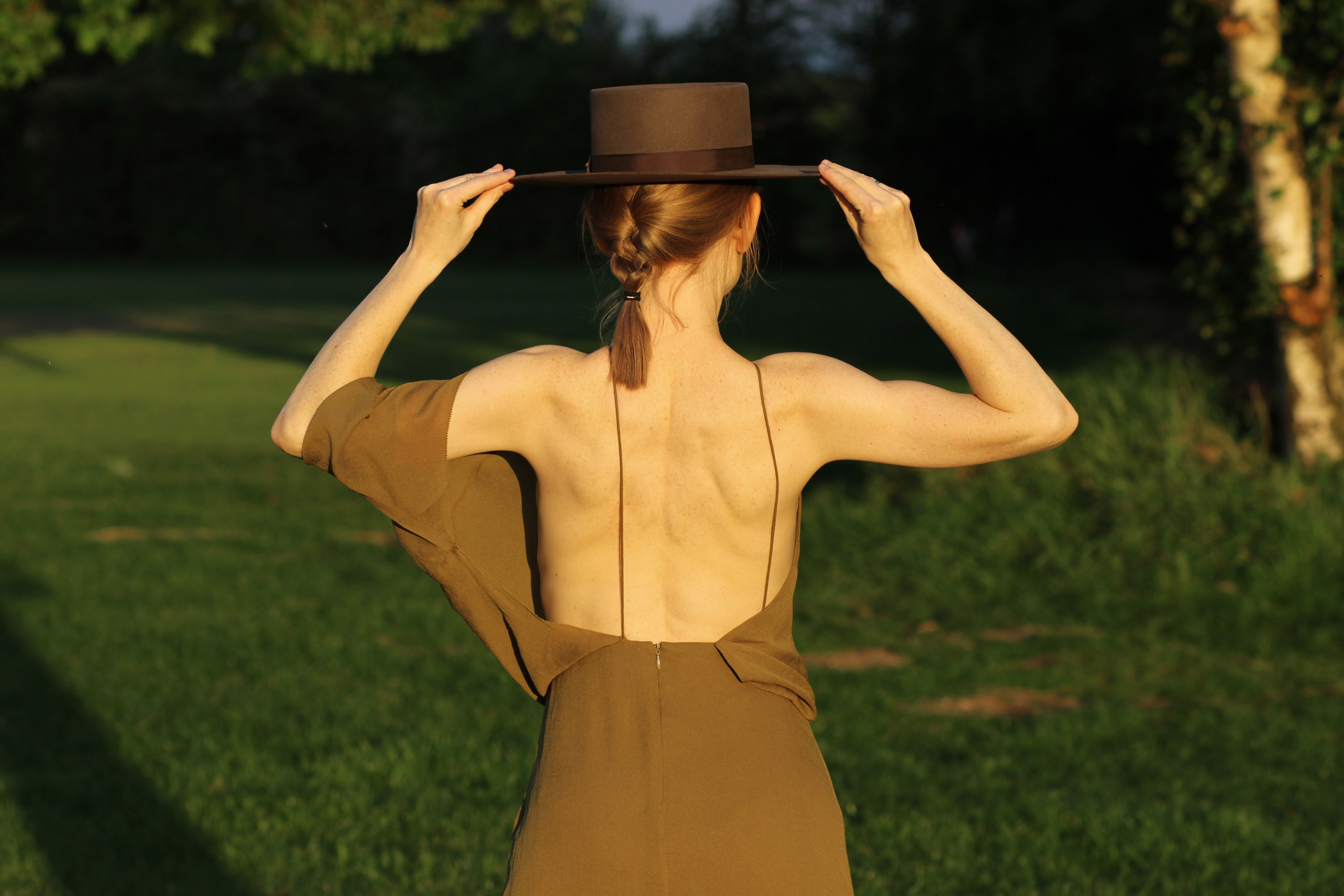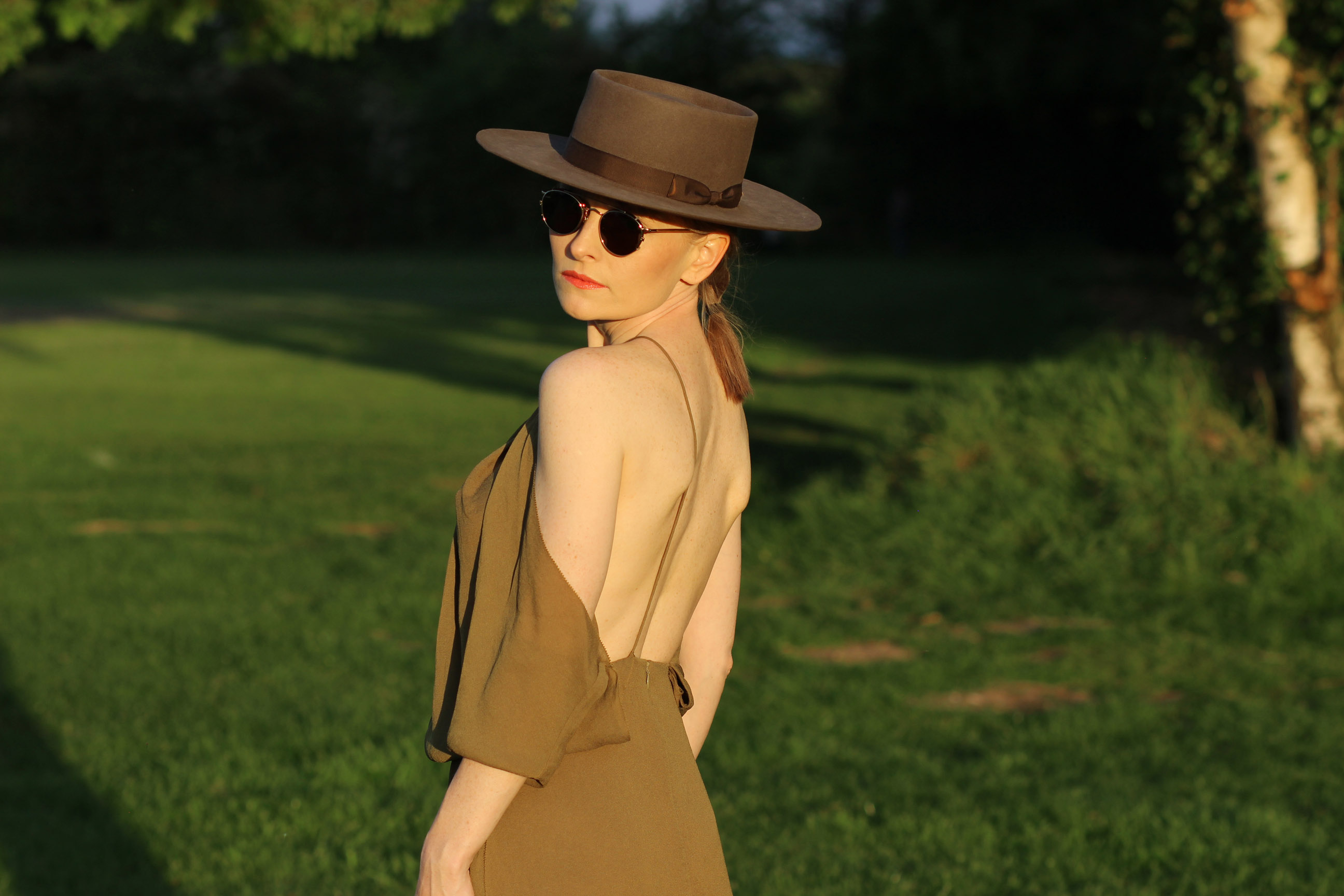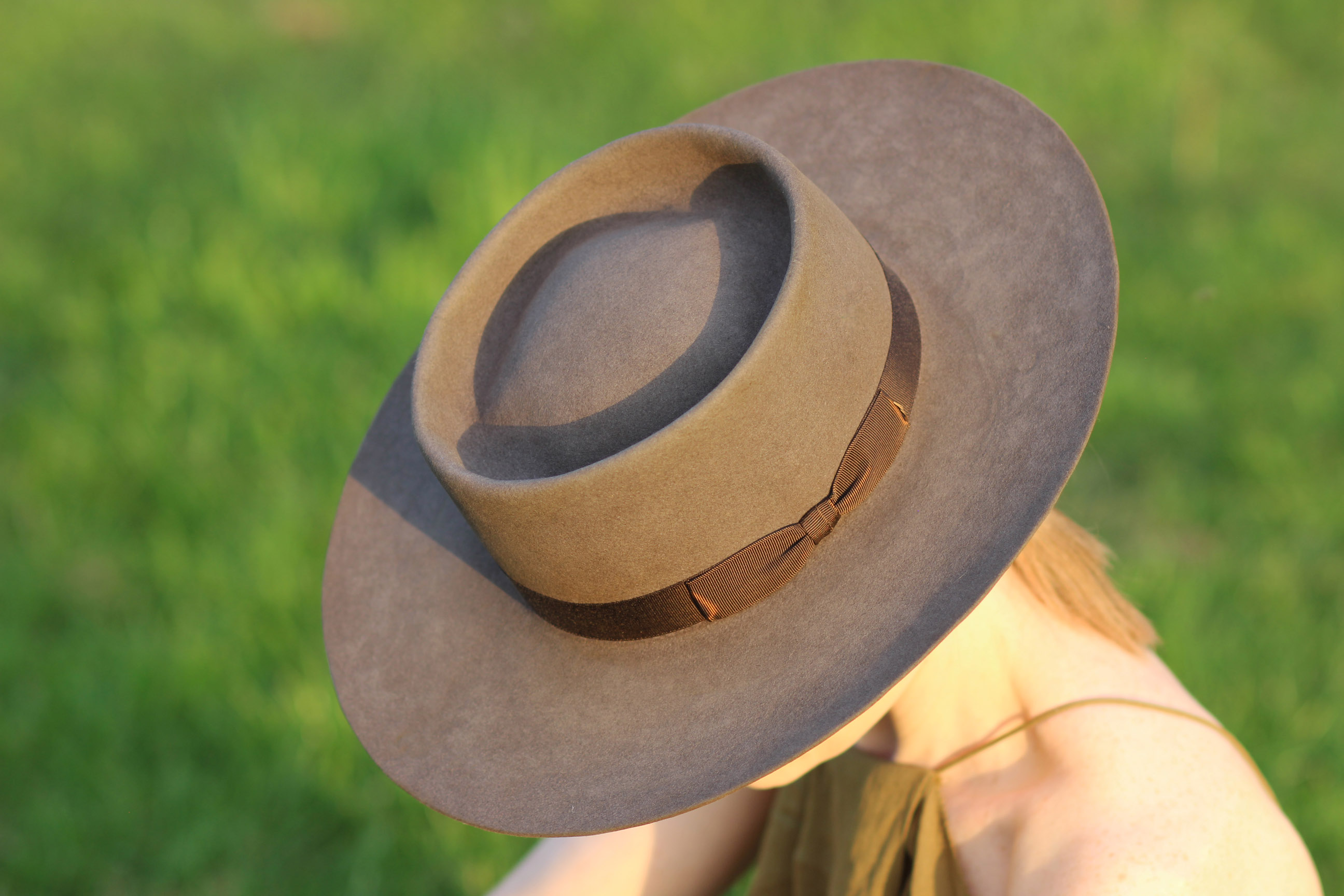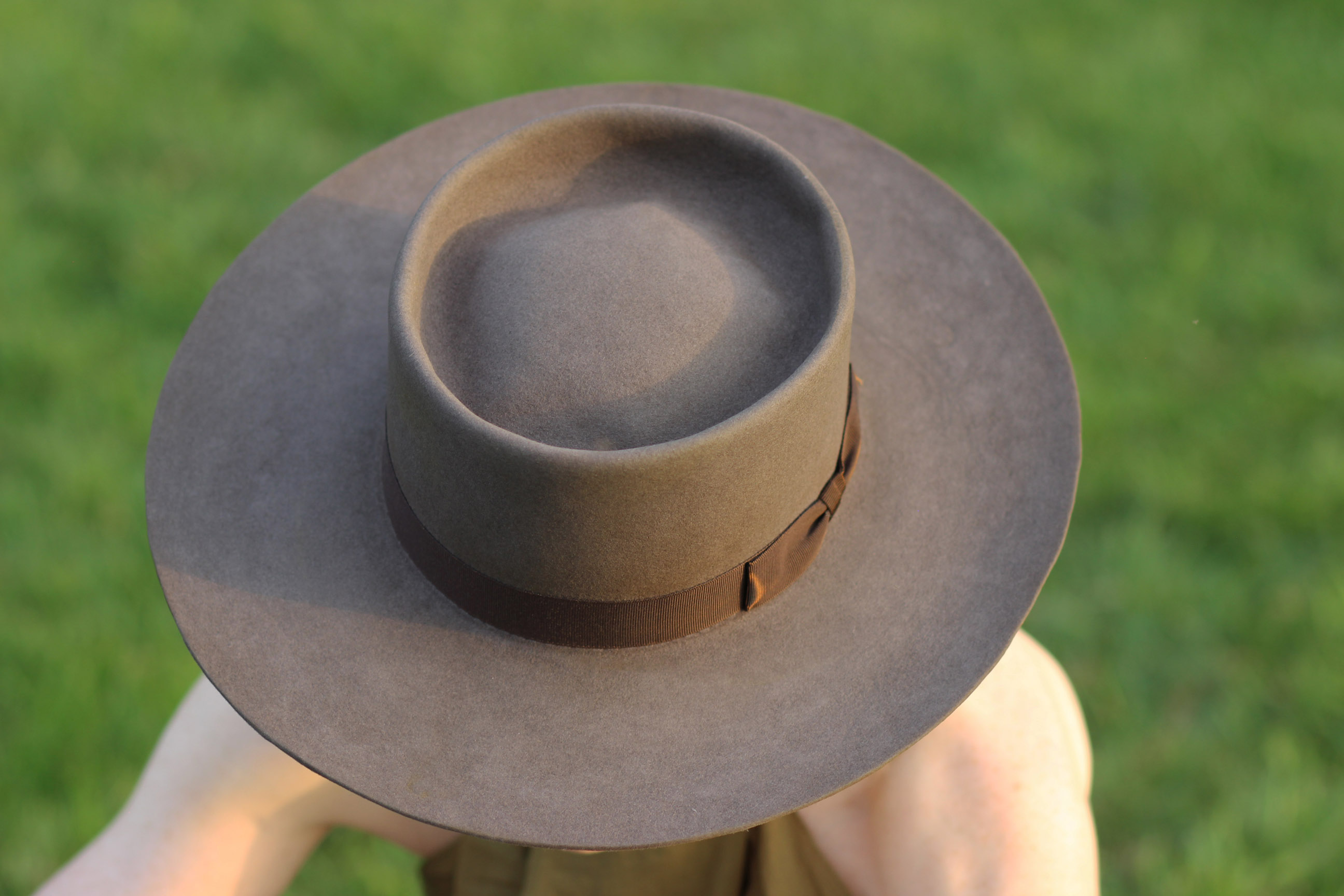 Noszenie kapeluszy, poza aspektami estetycznymi i użytkowymi (ochrona przed deszczem czy słońcem), ma jeszcze jeden – znacznie poszerza strefę komfortu. Trochę jak ciemne okulary przeciwsłoneczne. Lubię ten stan!
Hat wearing, besides the aesthetic and practical factors (rain and sun protection) has one more quality – it extends the comfort zone. A little bit like dark sunglasses, I like this feeling!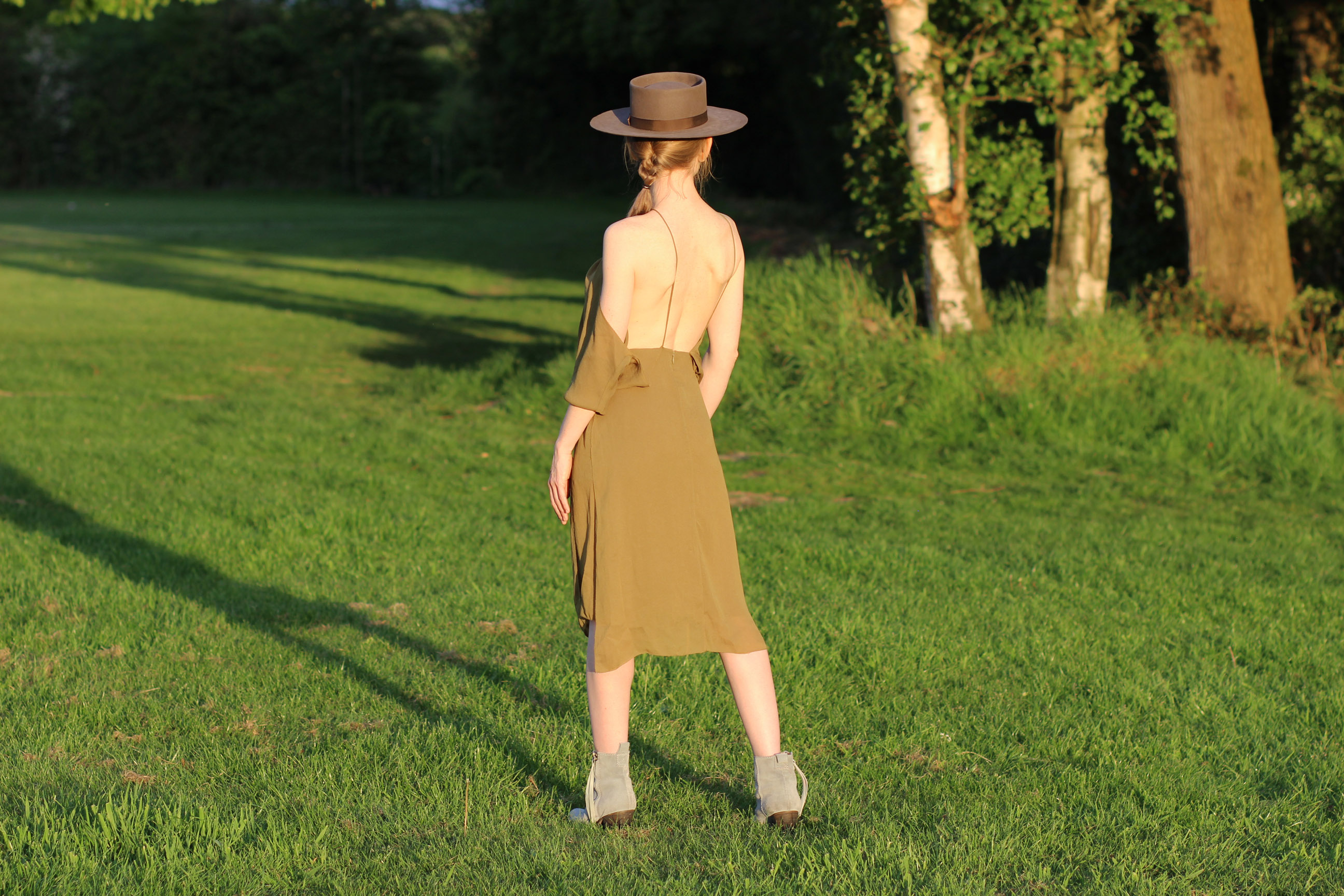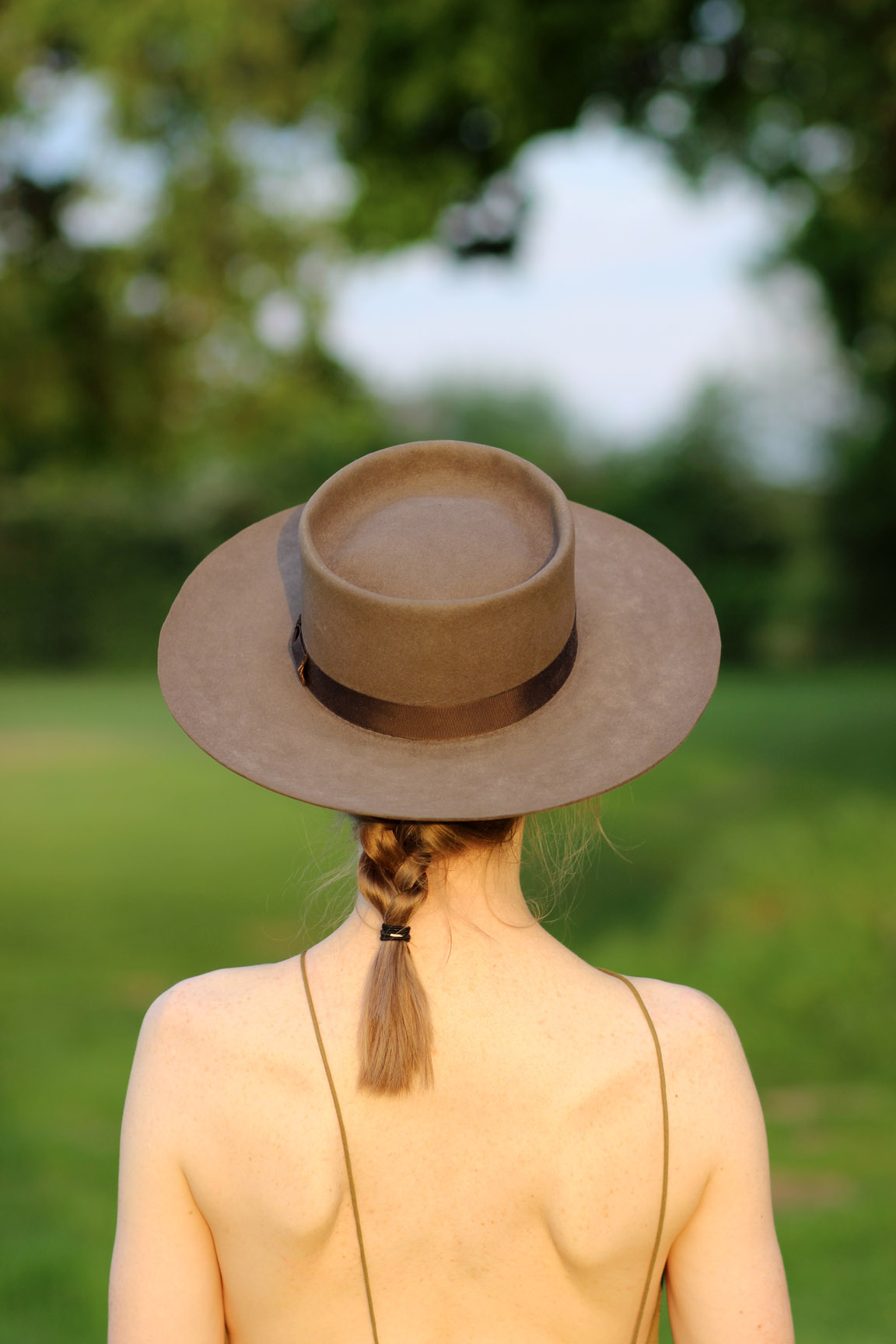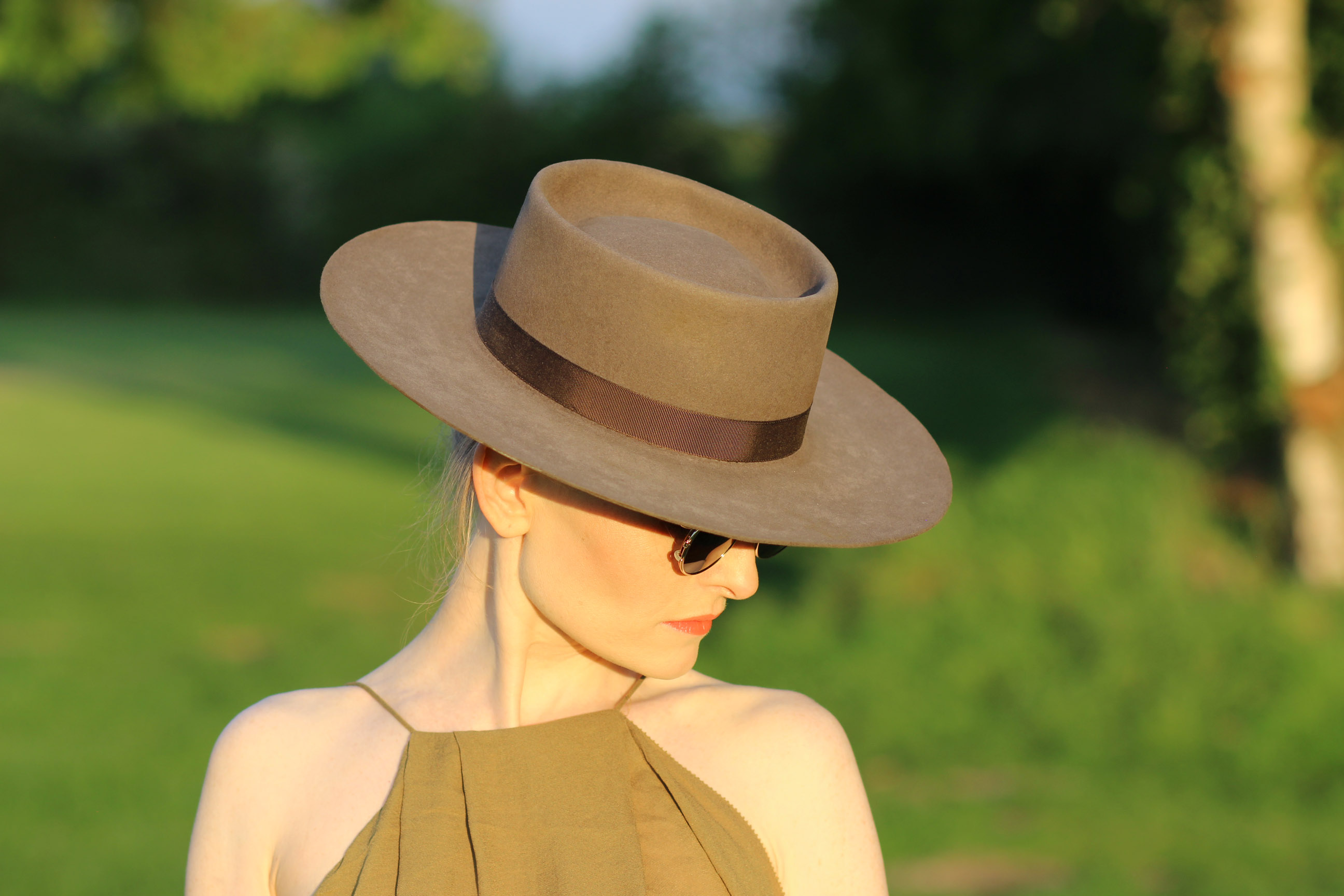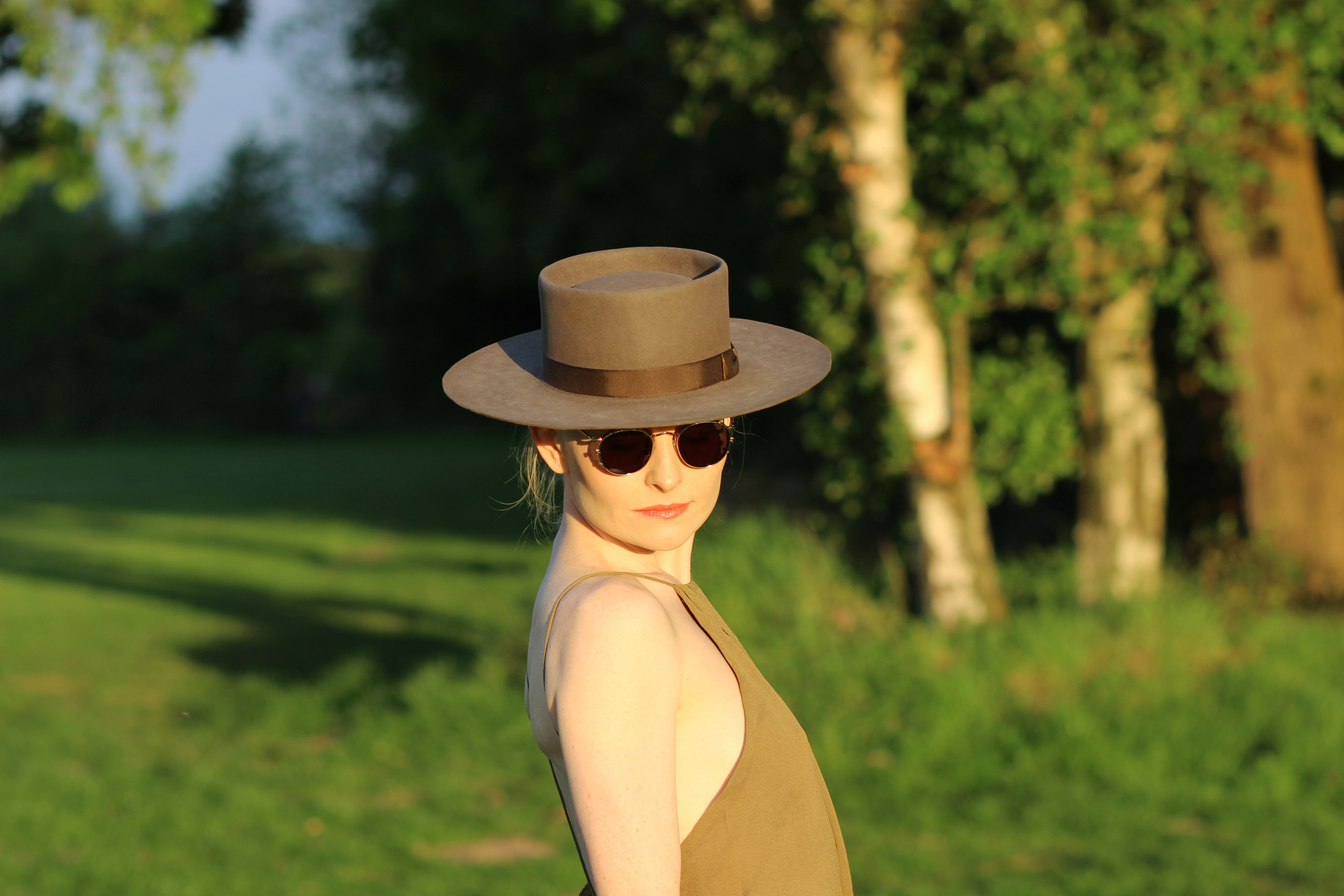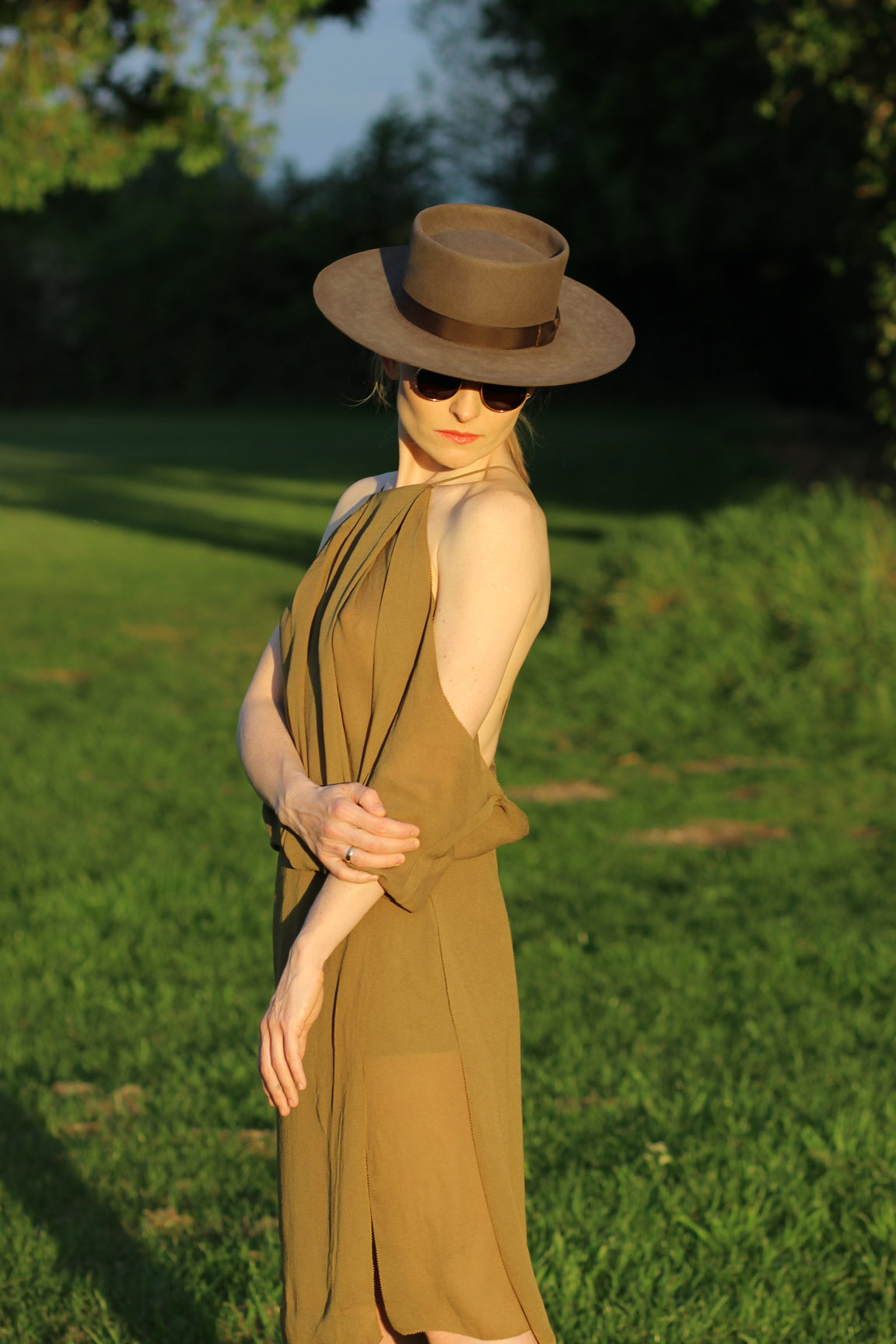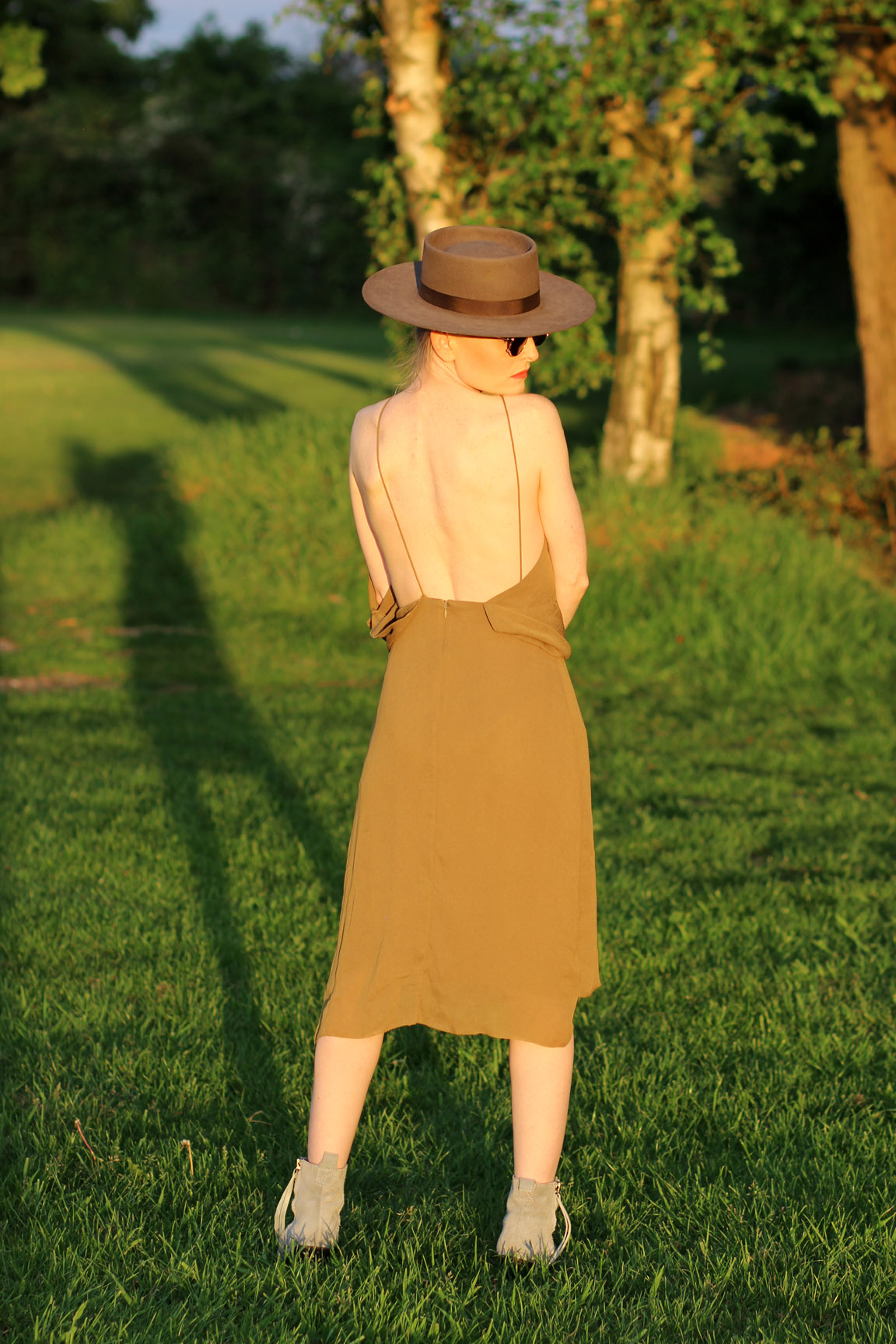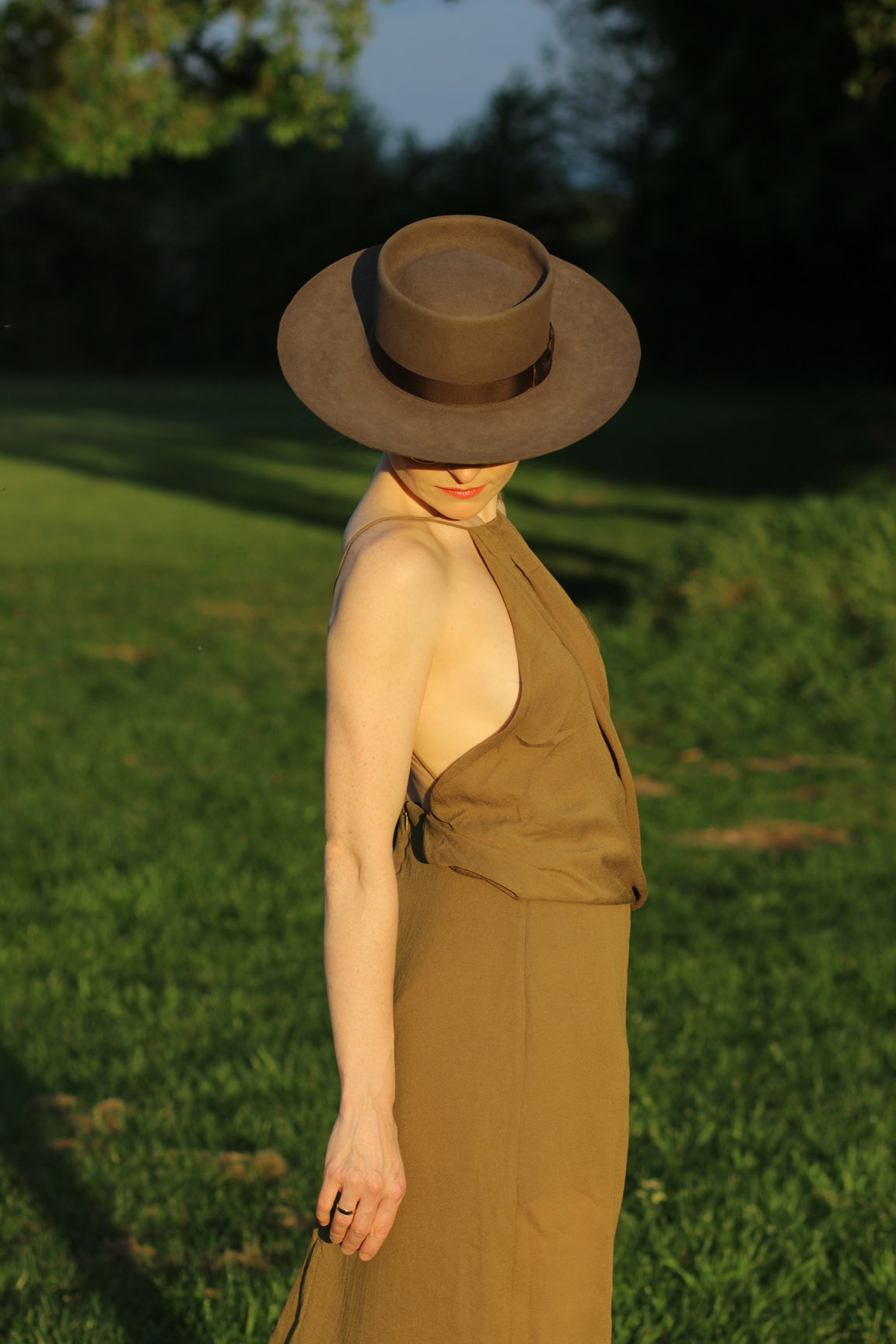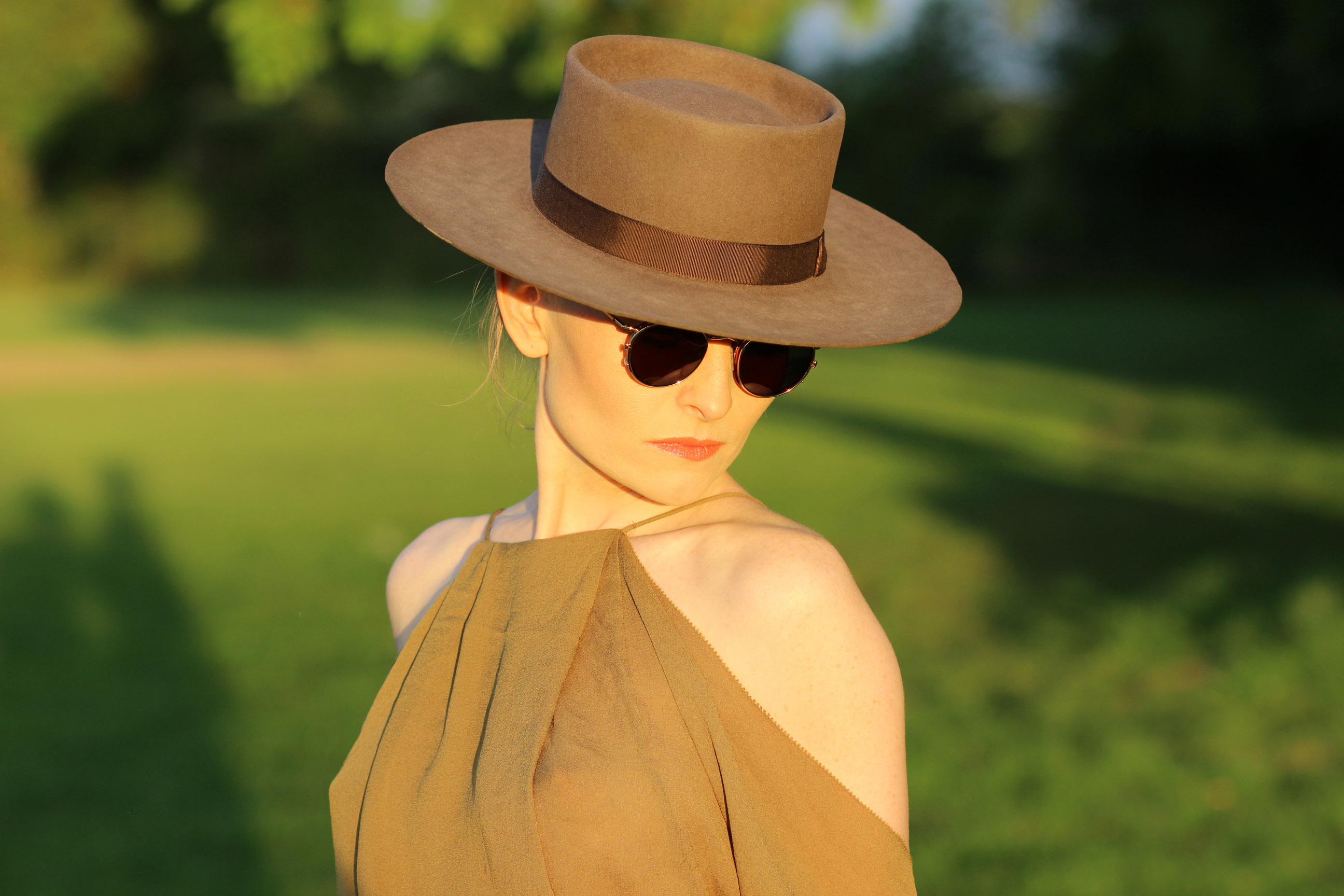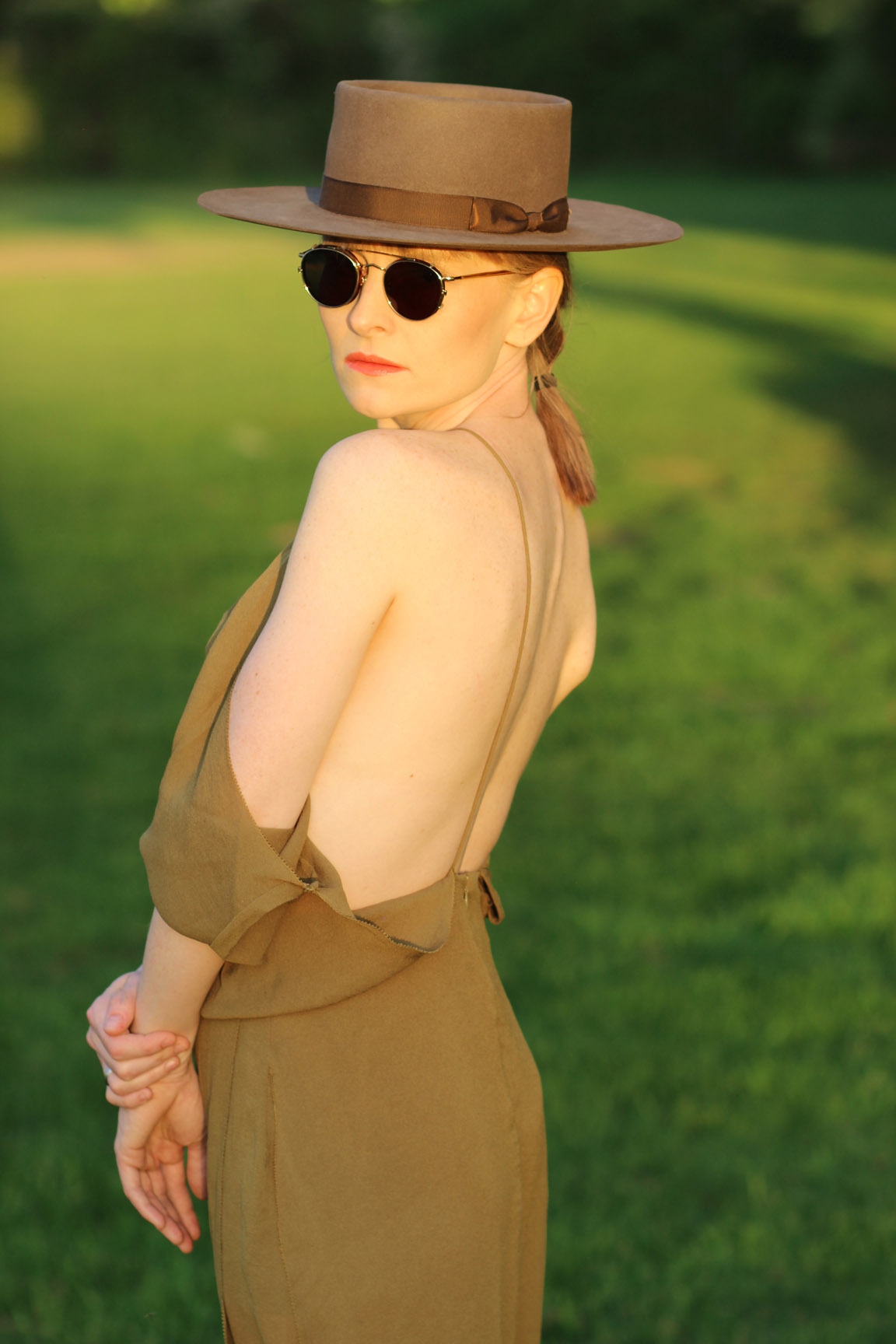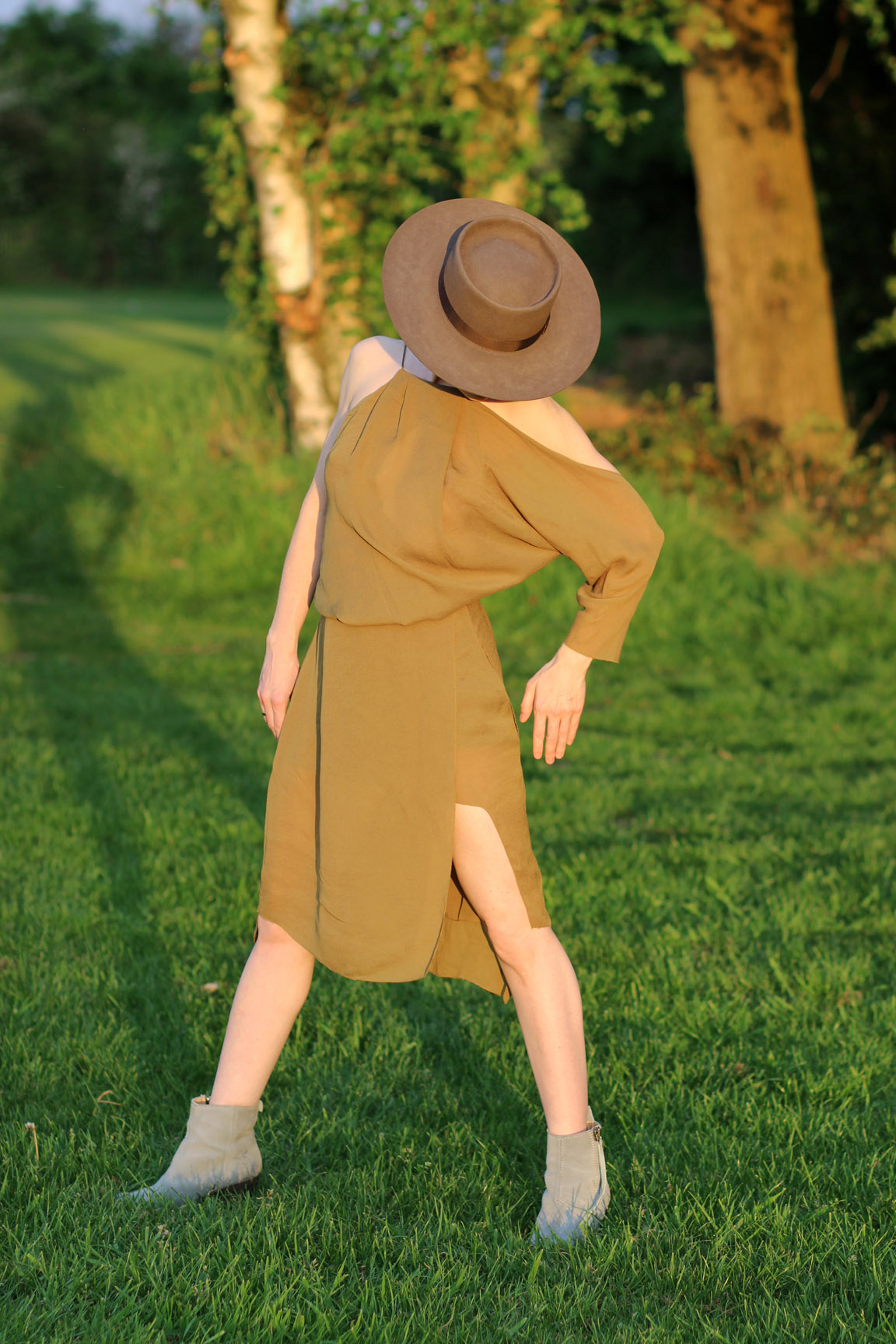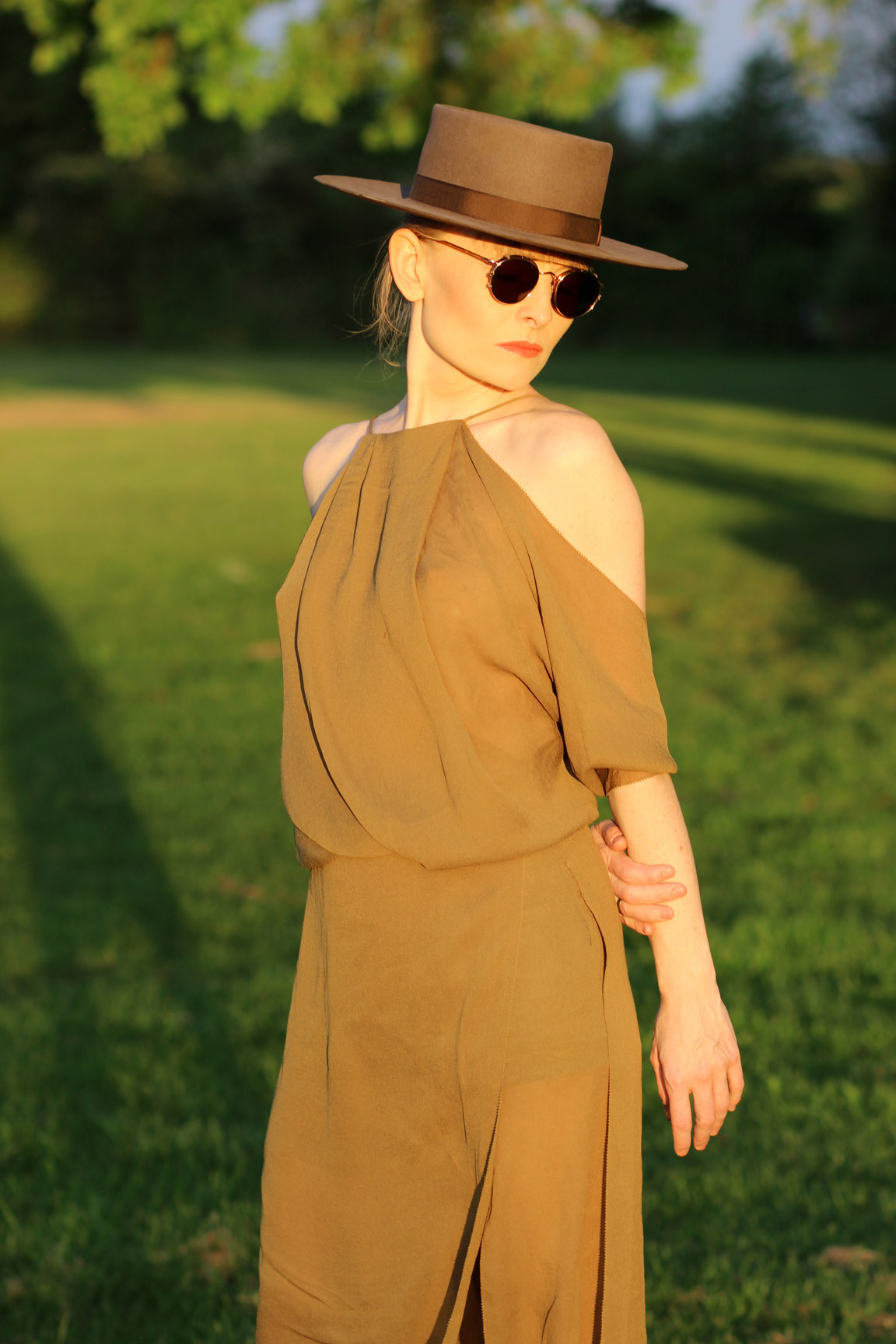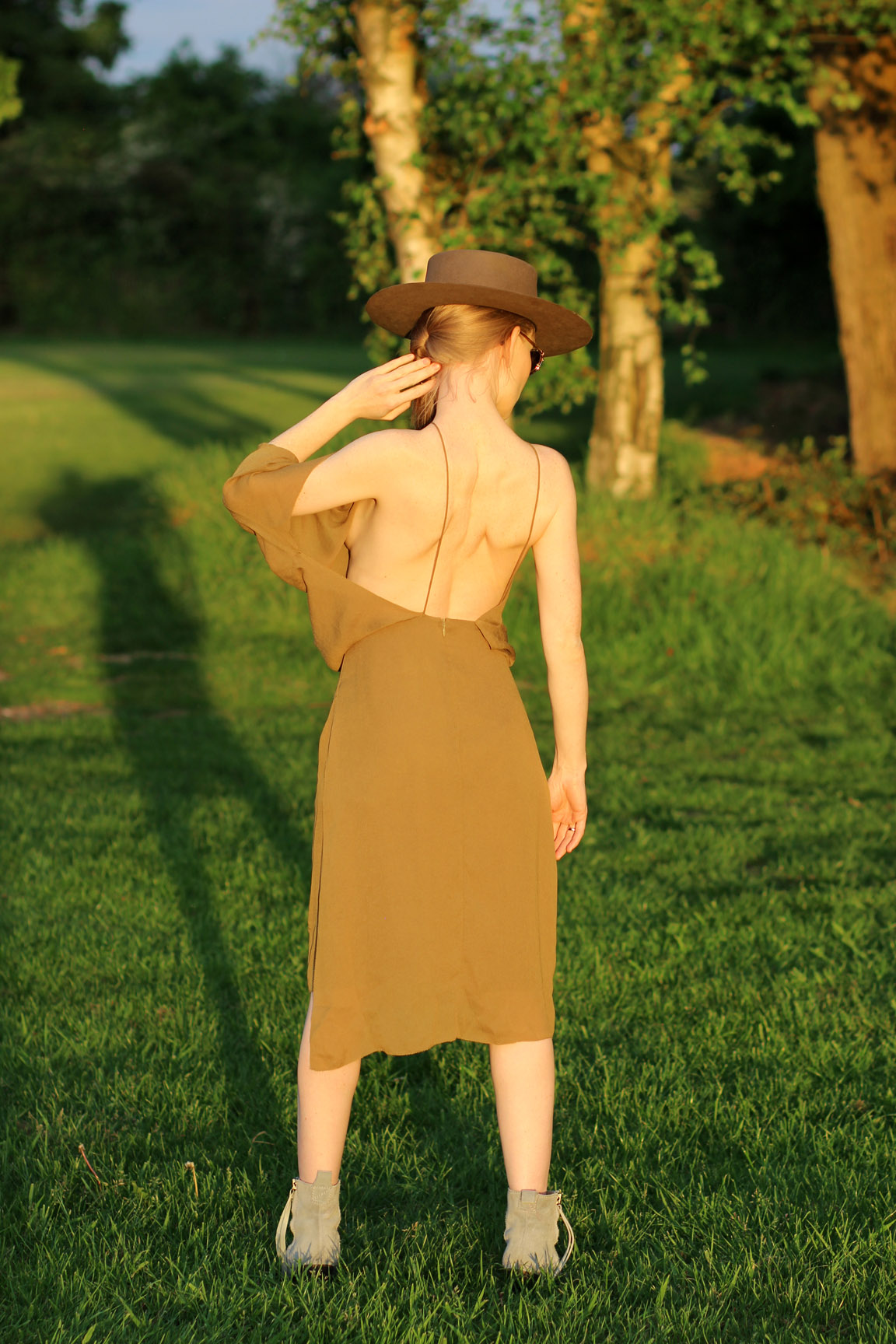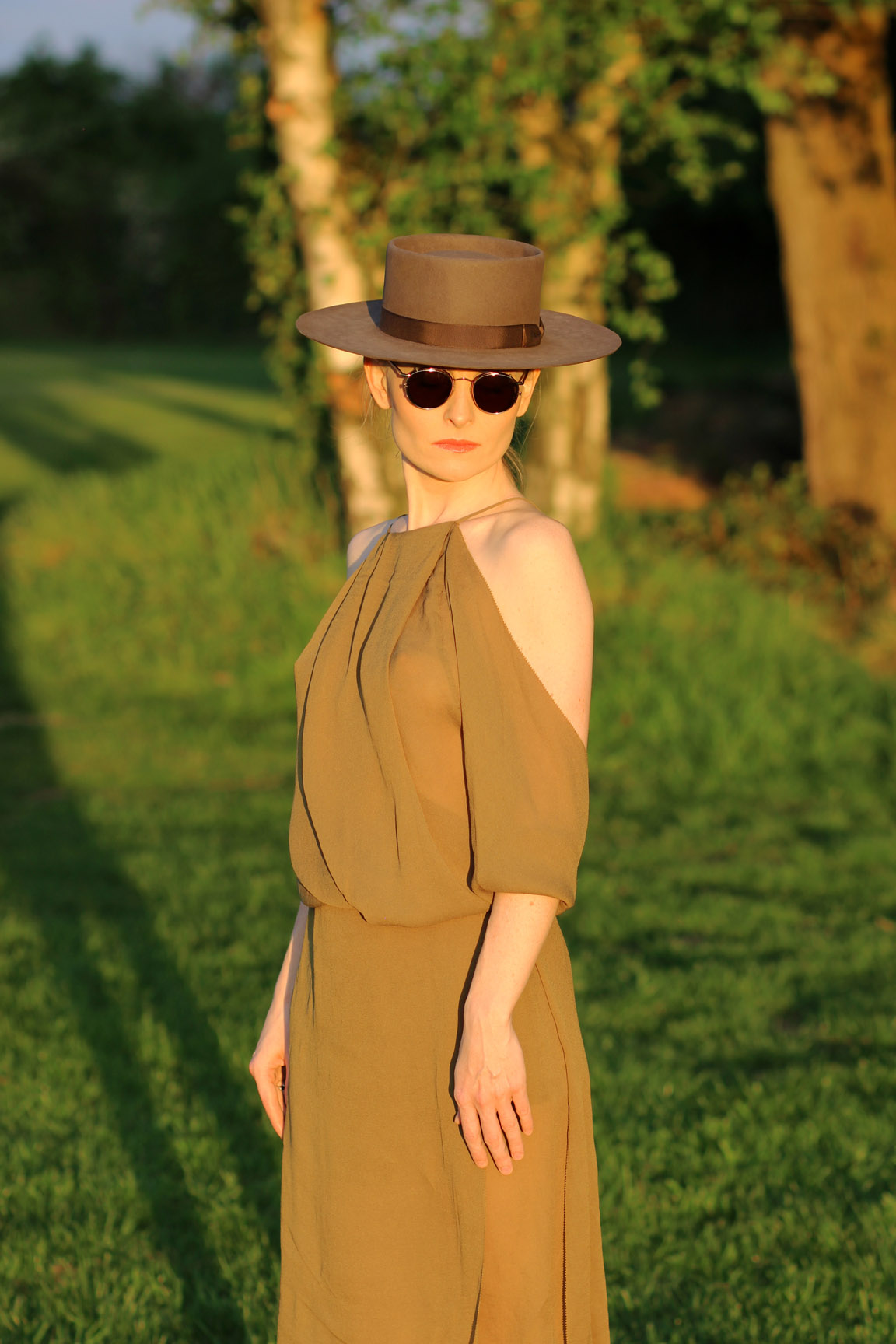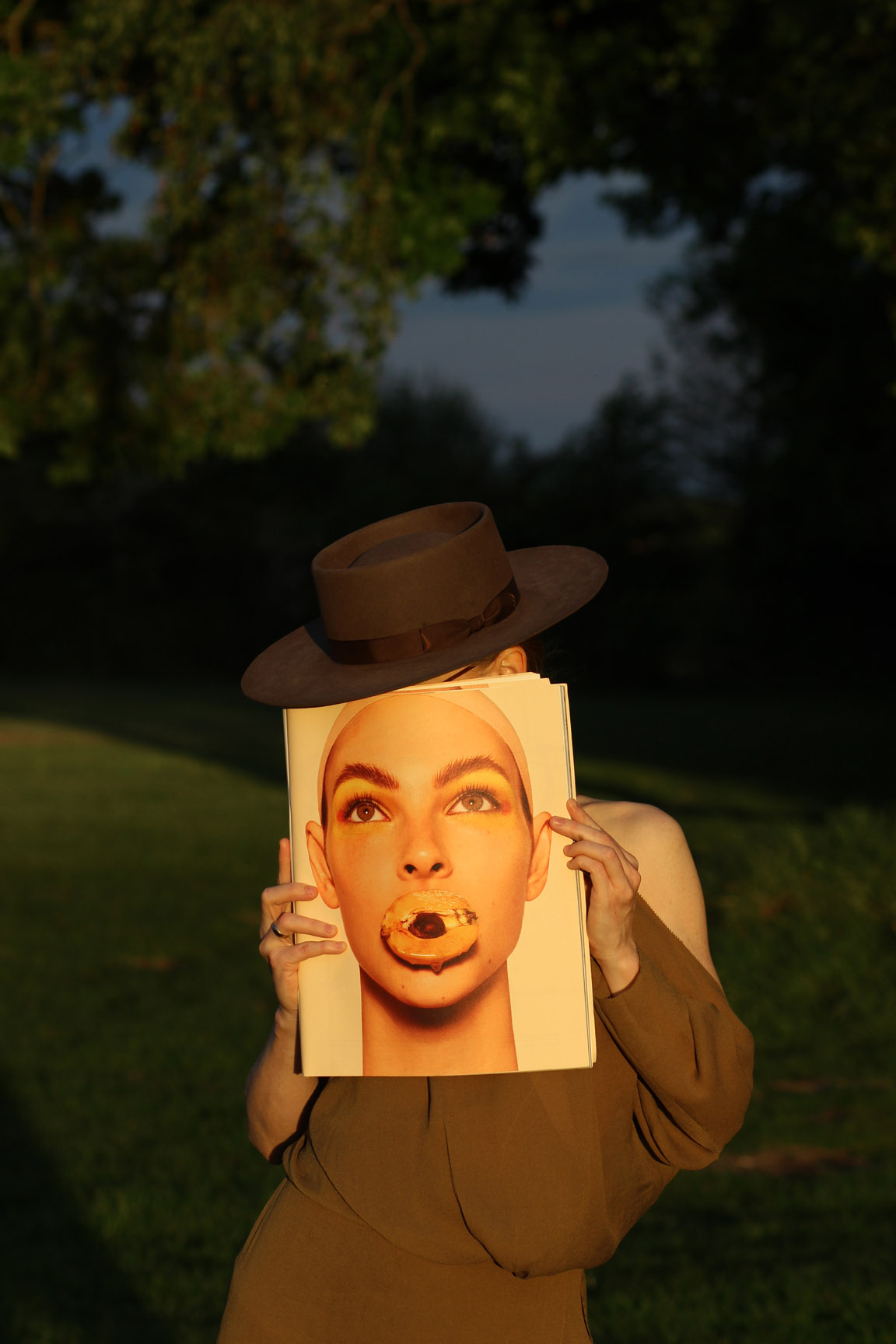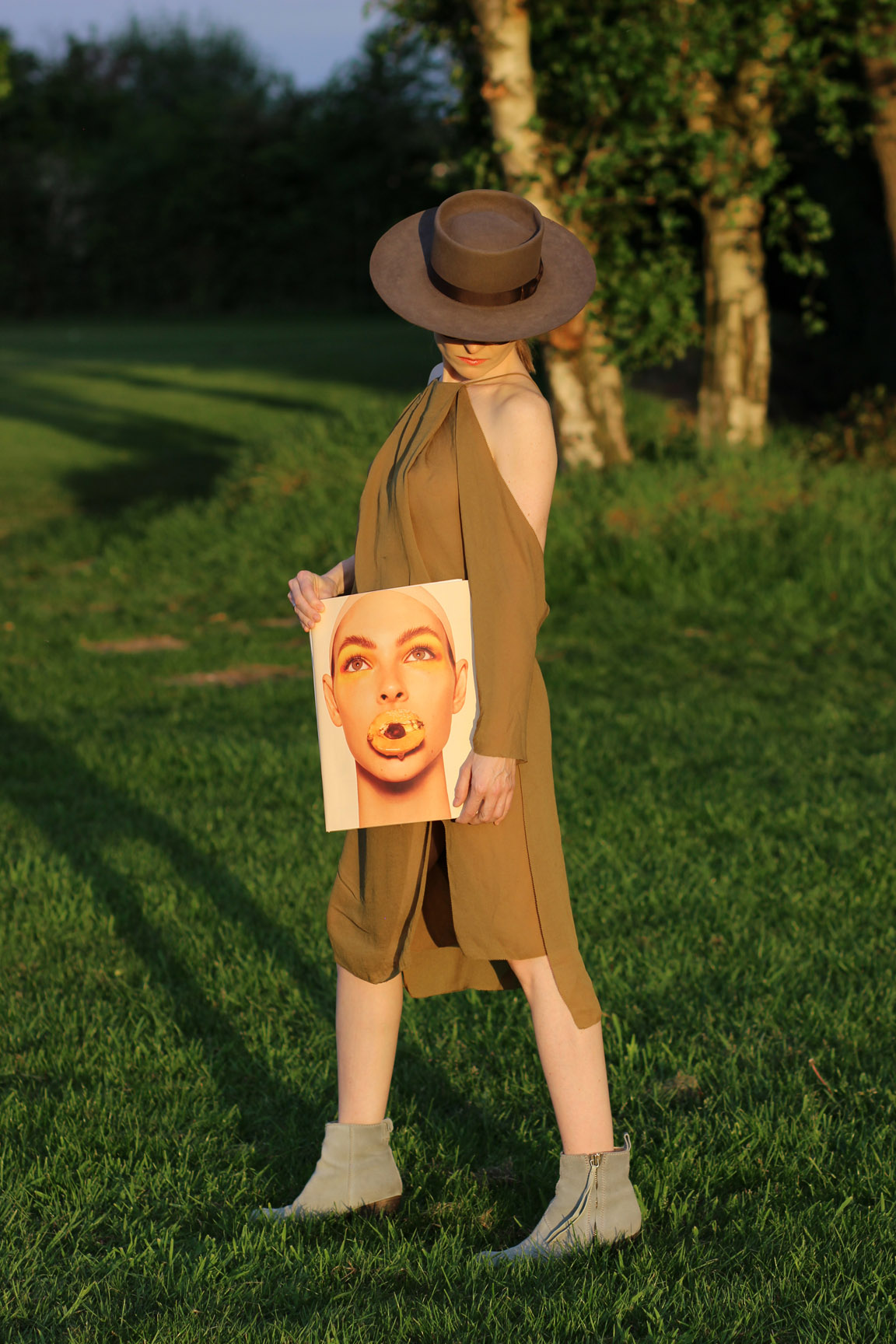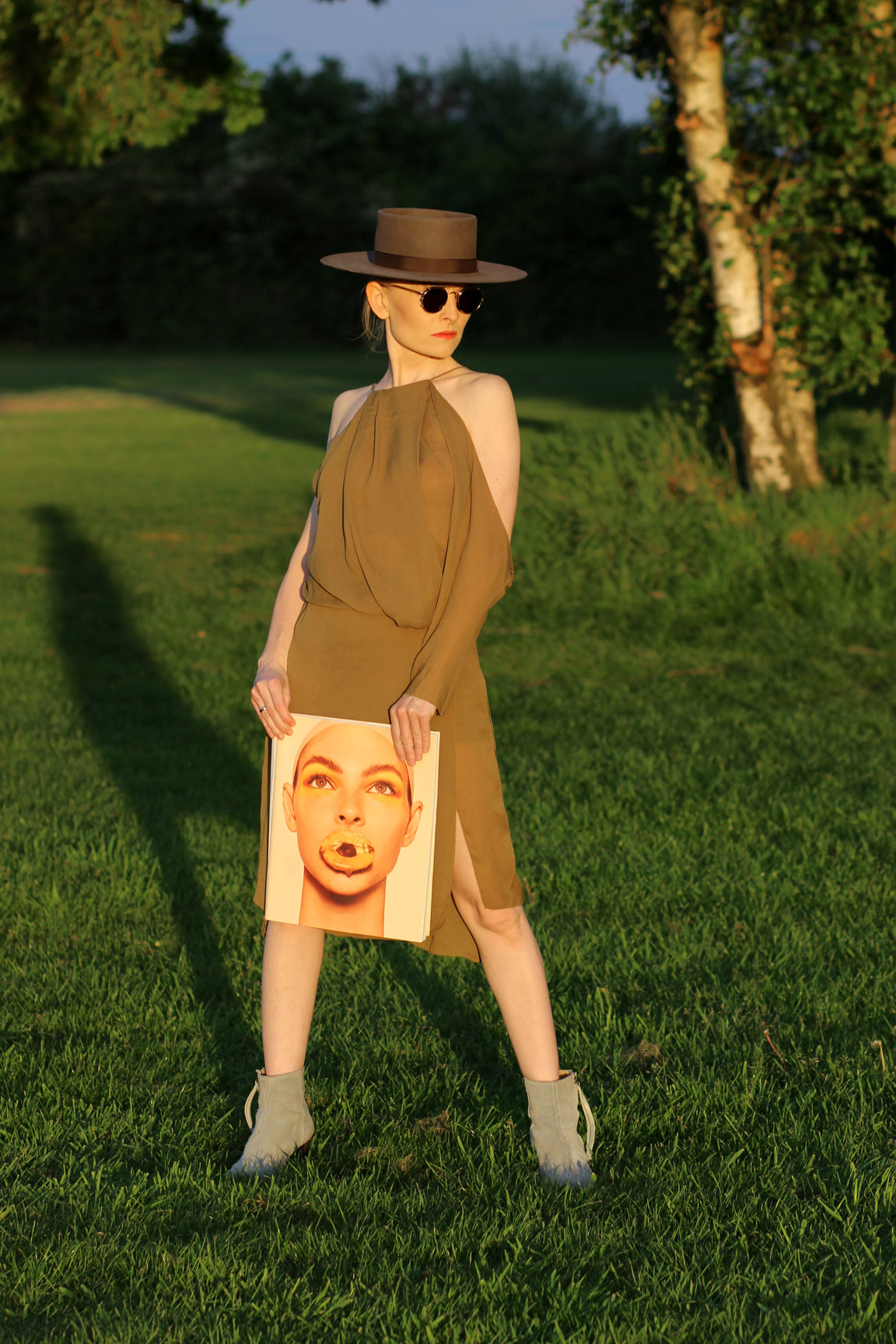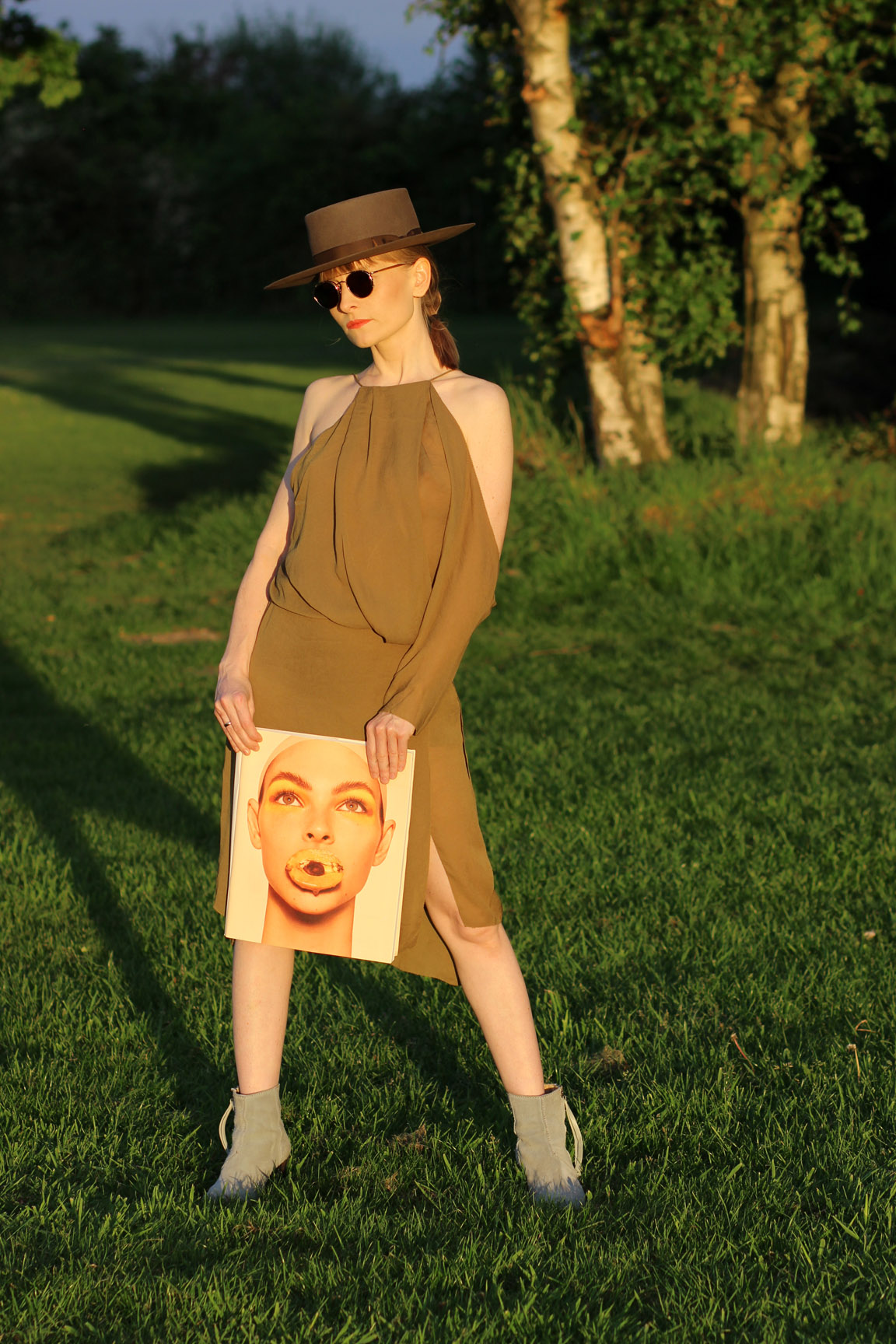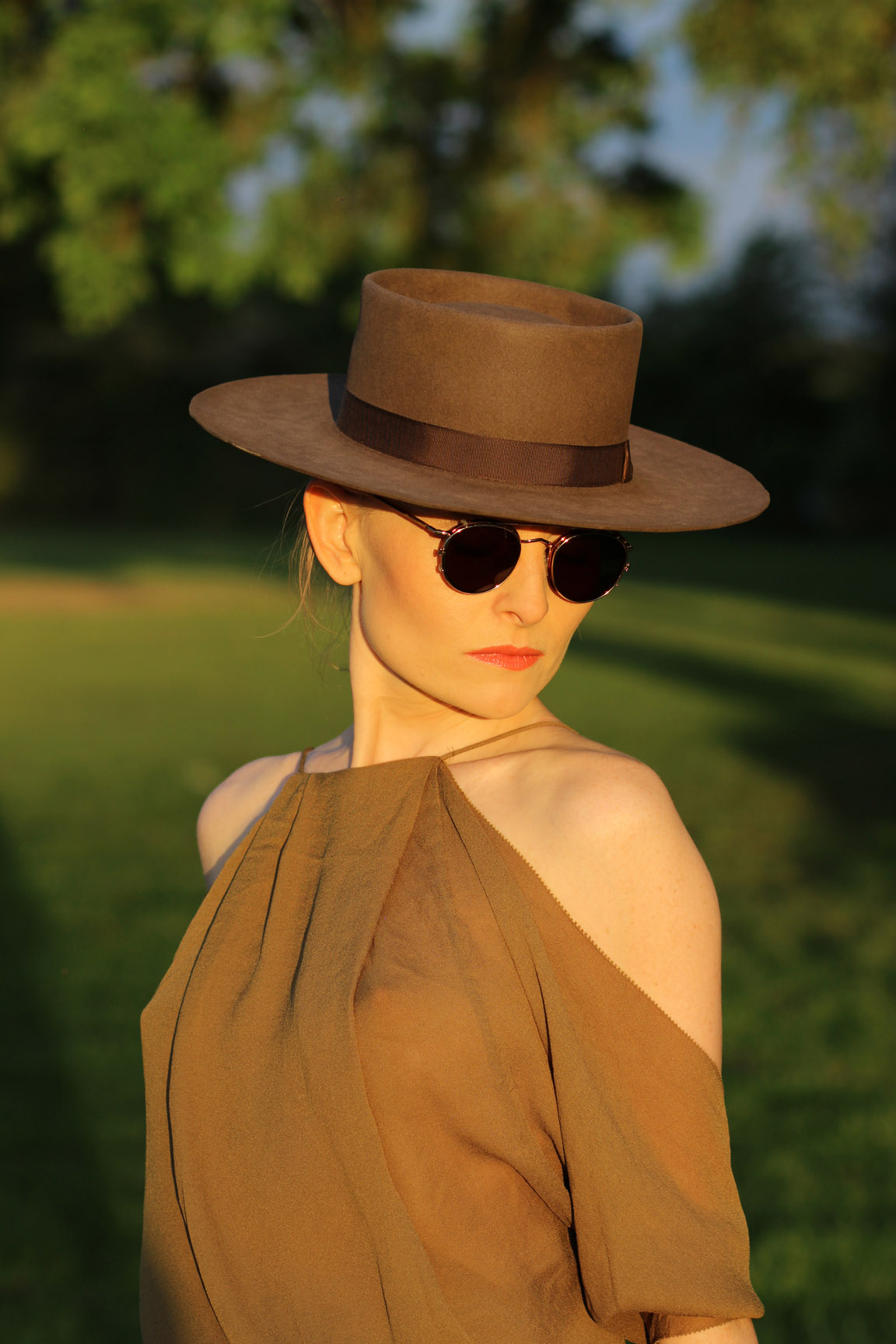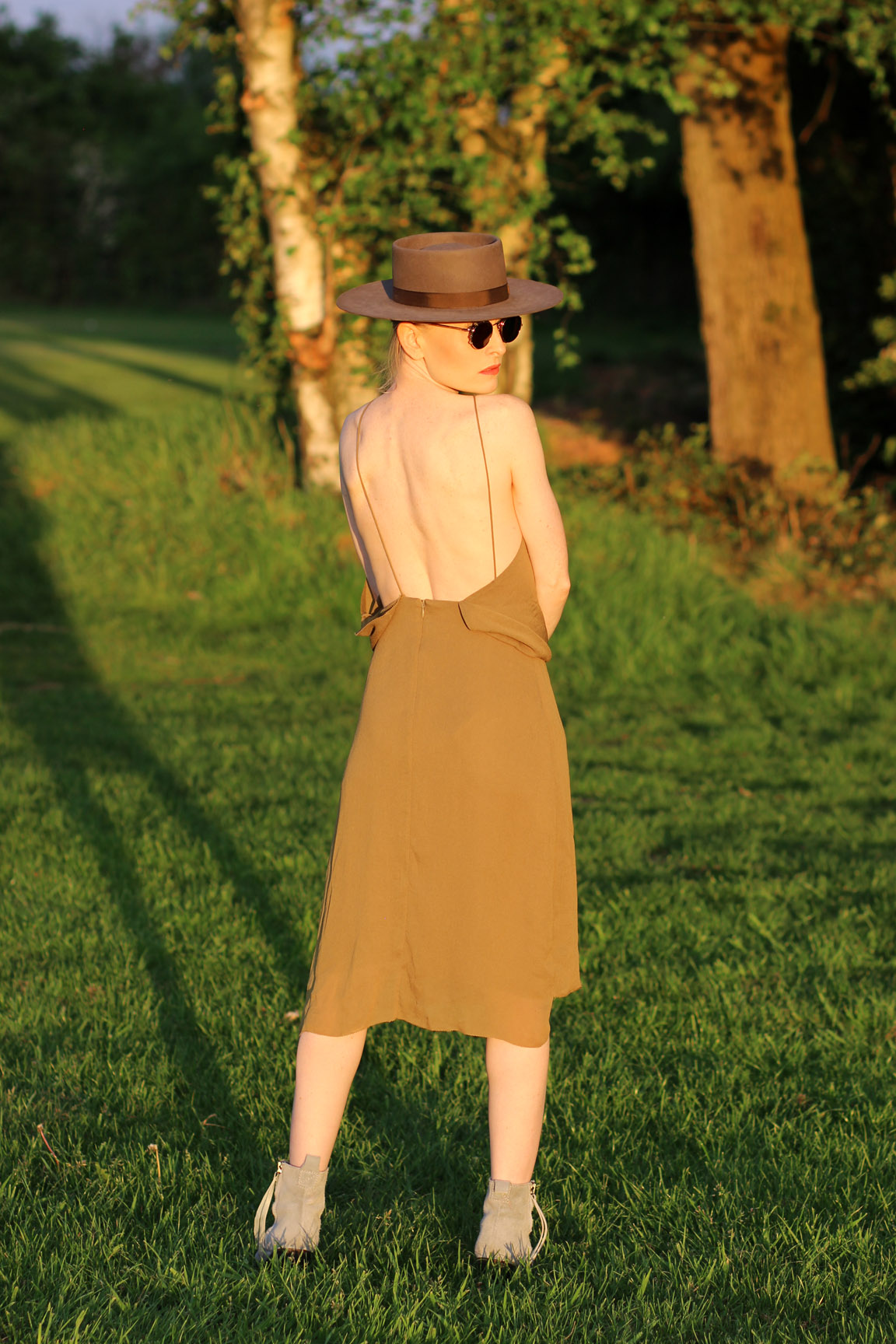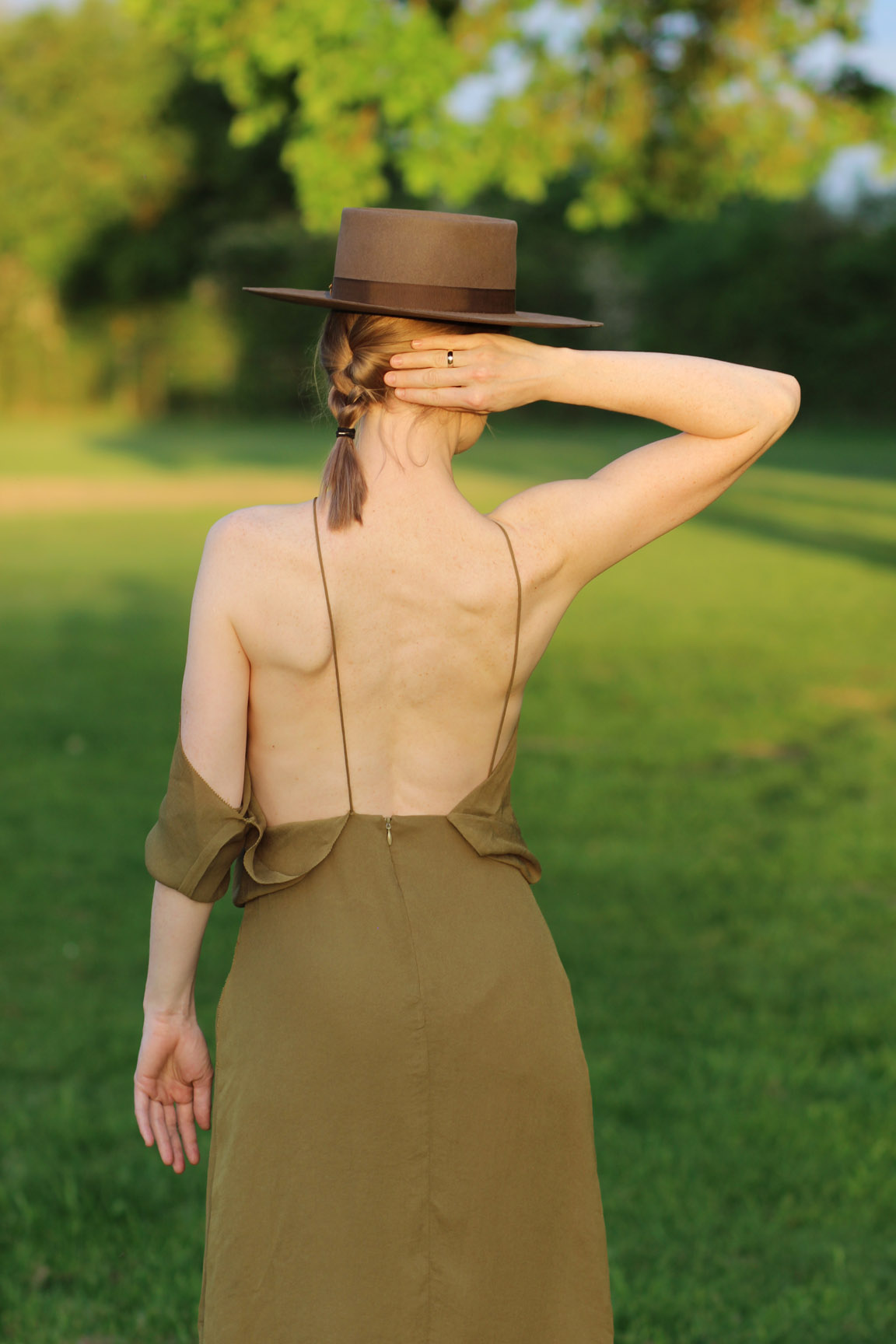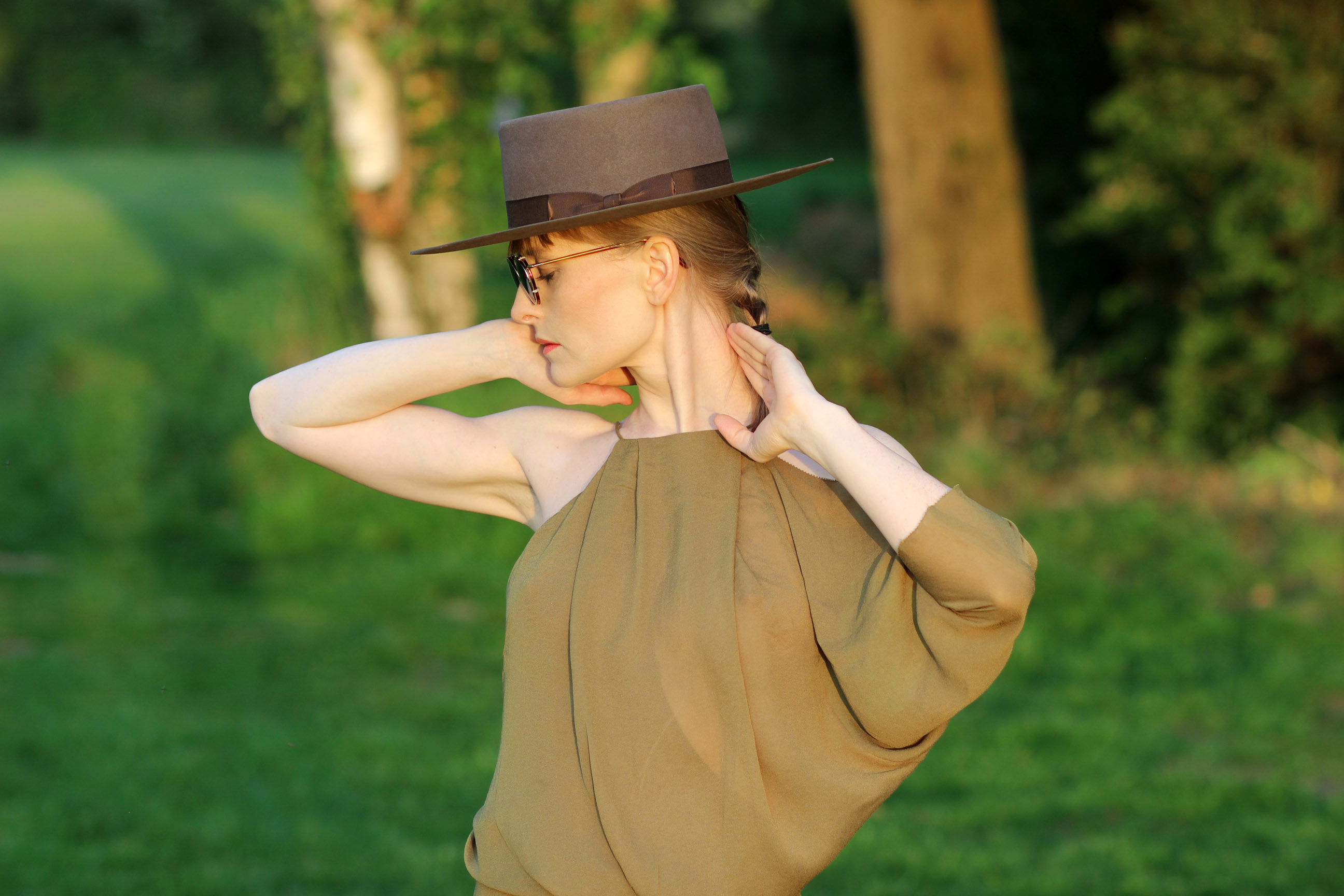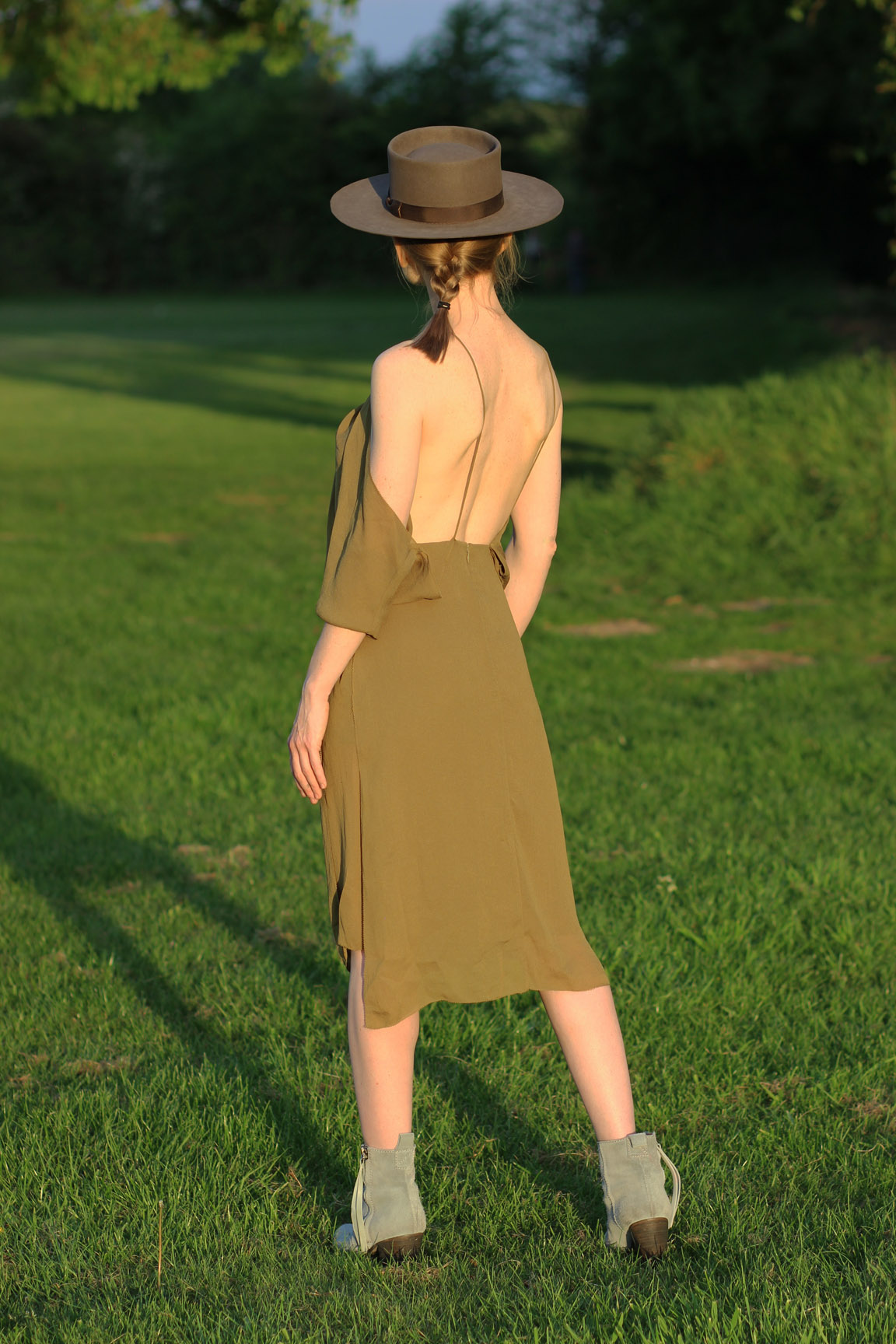 Photos by LONG STORY SHORT
hat – made by Long Story Short / sunglasses – MOSCOT / dress – Acne Studios / boots– Acne Studios