Miasteczko w hrabstwie Somerset, malowniczo położone w dolinie rzeki Avon poleciła mi moja koleżanka z pracy. Jej rekomendacja brzmiała mniej więcej tak: ,,Jeśli lubicie Włochy, to zapewne pokochacie Bath". Nie musiałam długo namawiać męża, wybraliśmy się na sobotnią wycieczkę, pogoda dopisywała, więc spakowaliśmy do plecaków dobre humory i wsiedliśmy do samochodu. Nawet większe odległości pokonuje się w Anglii szybko i przyjemnie, dzięki doskonale rozwiniętej infrastrukturze dróg i autostrad. Podróż z Coventry zajęła nam dwie godziny. Już przed wjazdem do miasta ukazał nam się wspaniały widok, to, co lubimy w krajobrazie najbardziej – urozmaicona rzeźba terenu. Na pagórkach zbudowano całe dzielnice, skąpane w jesiennym świetle wyglądały naprawdę bajkowo.
Niezwykle ciekawa jest historia powstania Bath, już sama nazwa przywodzi skojarzenia z kąpielą i nie bez przyczyny, w miejscu tym występowały naturalne wody geotermalne. Rzymscy kolonizatorzy wykorzystali ten atut i wybudowali tam łaźnie oraz świątynie – Aqua Sulis. Miasto już niemal od czasów powstania stało się popularnym miejscem wypoczynkowym i kurortem, zwłaszcza wśród ówczesnych dandysów, przede wszystkim dzięki angielskiemu arbitrowi elegancji Richardowi Beau Nash, znanemu jako "Piękny Nash" 🙂 Inni słynni mieszkańcy związanymi z tym miastem to m.in.: Jane Austin, Manolo Blahnik, Mary Shelley, Carol Dickens i Nicholas Cage.
Większość zabytków Bath pochodzi z epoki georgiańskiej. Niestety tym razem na zwiedzanie mieliśmy tylko kilka godzin, ale i tak zdążyliśmy się zakochać, pozostał niedosyt i chęć powrotu przy najbliższej okazji, bo do zobaczenia jest naprawdę wiele m.in. największa atrakcja, czyli Rzymskie Łaźnie, Muzeum Mody i Galeria Sztuki. Podczas kolejnej wizyty chciałabym skusić się na antyczne rozrywki, spa na dachu z widokiem na zabytki brzmi jak plan idealny 🙂
I found out about this town in Somerset County, situated in the valey of river Avon from
a friend from work. Her recommendation was something like – "If you guys like Italy you will love Bath." I didn't had to encourage my husband too much. We took our Saturday road trip there. The weather was great so we packed our good humors into the backpack and we got in the car. Travelling far is very comfortable in England thanks to very good infrastructure of roads and motorways. We got to Bath from Coventry in two hours. Just when we entered the town we were surprised with the great view – something that we both like the most – diverse landscape. On the hills you can see all the housing districts and in the fall light they looked like in a fairy tale.
Bath's history is very interesting. Just the name itself brings the connotations of "bathing", and it is because there where natural geothermal springs.
The Romans who colonized this area used it and built baths and Aqua Sulis Temple. The town since its first years, became a popular spa specially with 18th century Dandies. Thanks to English arbitrator of elegance Richard Nash – called "Beau Nash" who was the Master of Ceremonies in Spa Town of Bath. Others linked to Bath are: Jane Austin, Manolo Blahnik, Mary Shelley, Charles Dickens and Nicolas Cage.
Most of the monuments are from Georgian Period. Unfortunately we had only few hours to sight see but still we managed to fall in love with the town and we need to come back as soon as possible because there is a lot to see: Roman Baths, Fashion Museum, Art Gallery. During our next visit I would like to try more "antique" attractions and a roof spa with a city view sounds like an ideal plan.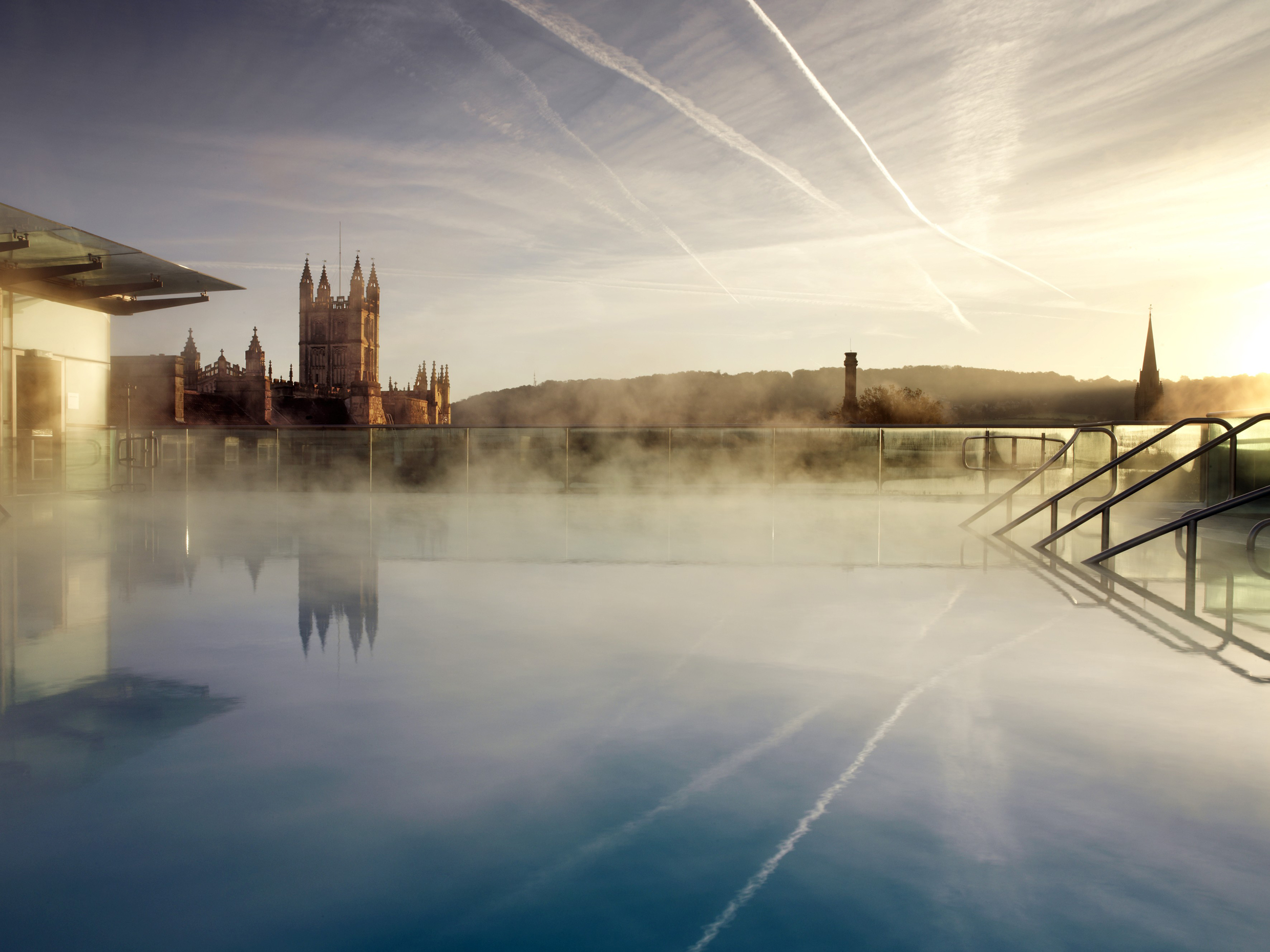 Najbardziej urzekł mnie sam klimat miasta, bardzo przypominający właśnie Włochy. Wszechobecny tłum na ulicach, elegancja i smak wyglądające z każdego wystawowego okna, mnóstwo uroczych kawiarenek, często poukrywanych w krętych uliczkach i na tyłach budynków. Udało nam się kupić bilety na wycieczkę na wieżę z przewodnikiem, ostatnią tego dnia i naprawdę było warto. Nie tylko widoki były urzekające, ale również historie niezwykle charyzmatycznej przewodniczki.
But except all of that I was charmed with the towns atmosphere that feels like in Italy. Where ever you go, there are people in the streets, elegance in every window shop, a lot of cute coffee shops hidden in winding streets and in the back streets. We made it to buy tickets to go on a tour on the tallest tower- last one that day – but it was so worth it. Not only the views were breathtaking but also the storytelling of our charismatic guide extraordinary.