To ciasto towarzyszy nam podczas wszystkich rodzinnych świąt. Jest stosunkowo proste w przygotowaniu, puszyste i zachwyca delikatnym smakiem. To zdecydowanie najlepszy sernik, jaki do tej pory jadłam, wiem, co mówię, bo przepisów na ten rodzaj deseru próbowałam już naprawdę sporo 🙂
KAKAOWY SPÓD:
2,5 szklanki mąki
0,5 szklanki kakao
0,5 szklanki cukru
1 cukier wanilinowy
6 żółtek
1 margaryna
2 łyżeczki proszku do pieczenia
Ugniatamy typowe kruche ciasto, łącząc posiekaną margarynę z suchymi składnikami: mąką, proszkiem do pieczenia, kakao, cukrem i cukrem wanilinowym, następnie dodajemy żółtka. Gotowe ciasto owijamy w folię i wkładamy do lodówki na około godzinę. Międzyczasie przygotowujemy masę serową.
MASA SEROWA:
1 kg twarogu mielonego w wiaderku
1 budyń śmietankowy
1 i 3/4 szklanki cukru
6 jajek
0,5 szklanki oleju
2,5 szklanki mleka
szczypta soli
Oddzielamy żółtka od białek, białka ucieramy ze szczyptą soli i stopniowo wsypujemy cukier. Do ubitej piany dodajemy żółtka i delikatnie mieszamy, następnie dokładamy twaróg i wsypujemy budyń. Dokładnie łączymy wszystkie składniki, na koniec wlewamy olej i mleko, ucieramy masę do momentu uzyskania jednolitej, płynnej konsystencji, nie za długo, by uniknąć pękania sernika w czasie pieczenia.
Schłodzone kruche ciasto wykładamy na posmarowaną tłuszczem i posypaną mąką blachę, nakłuwamy widelcem. Na wierzch wlewamy serową masę. Wstawiamy do piekarnika nagrzanego do temperatury 180 stopni i pieczemy około godziny. Po przestudzeniu dekorujemy wedle upodobań. Ja najczęściej przygotowuję polewę z mlecznej czekolady. Smacznego!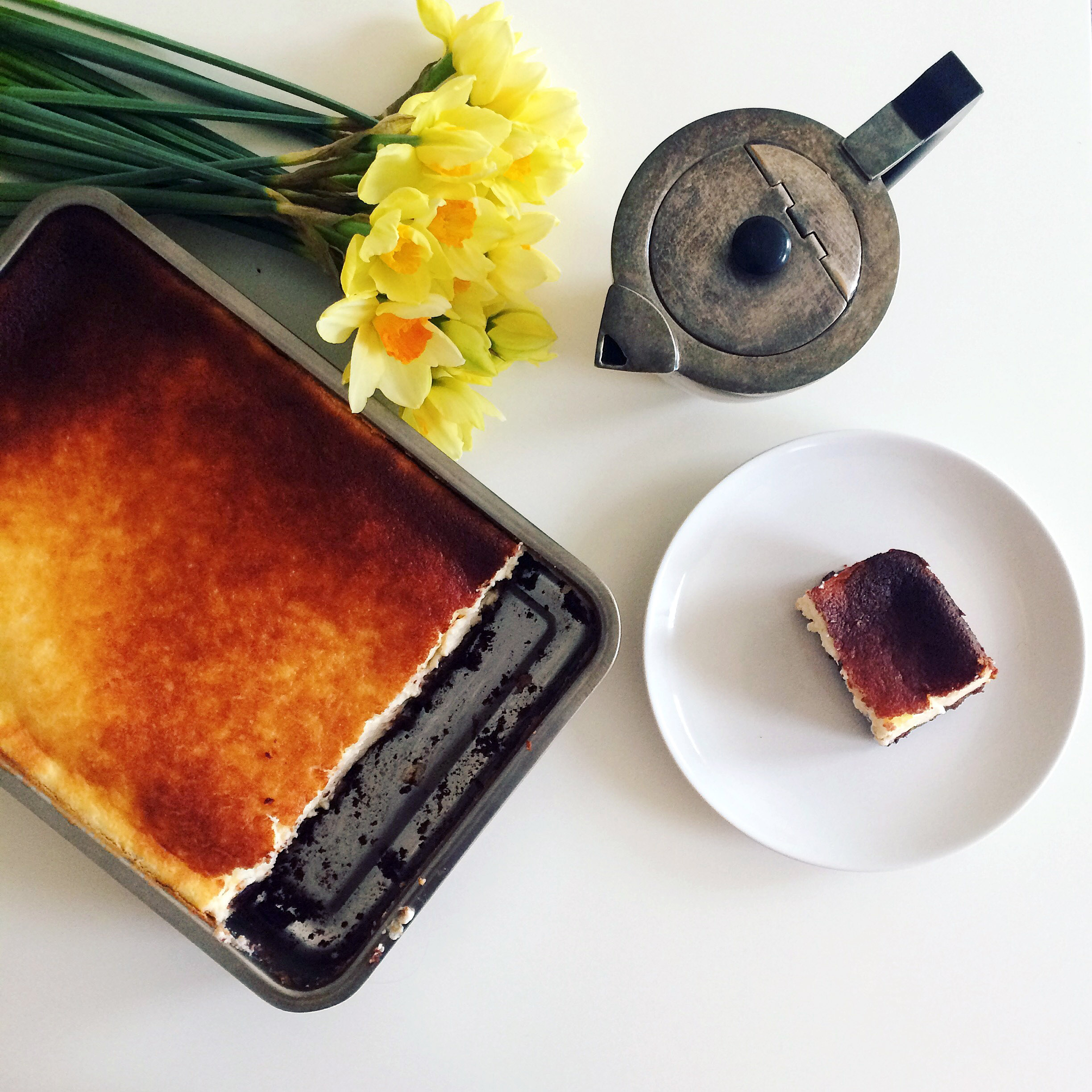 This recipe comes from my sisters cooking blog: kuchmiszmasz. We make this cake for every family holiday. It is easy to make and delights with its delicate flavour and fluffiness. It is definitely the best cheesecake that I've ever eaten. Believe me – I've tried a lot of recipes like this in my life.
COCOA UNDERSIDE:
2,5 cups of flour
0,5 cup of cocoa
0,5 cup of sugar
1 vanilla sugar
6 yolks
1 margarine
2 spoons of baking soda
We are making a typical crust pie by putting cut margarine with the dry ingredients: flour, backing soda, cocoa, sugar and vanilla sugar, next we put egg yolks. We wrap the doe in thin foil and we put it in the freezer for an hour, meanwhile we prepare the cheese stuffing.
CHEESE STUFFING:
1 kg of grinded cottage cheese
1 cream pudding
1 and ¾ cups of sugar
6 eggs
0,5 cup of oil
2,5 cups of milk
pinch of salt
We separate the yolks form egg whites, we grind the egg whites with a pinch of salt and we put sugar. Into the foam we put egg yolks and we delicately stir it, next we put cottage cheese in and the cream pudding. We have to combine all the ingredients precisely, and than we put oil and milk. We grind the doe until we get homogeneous, liquid consistency, but don't do it to long – during backing, the cake may crack. We put the chilled crust pie into a baking form (smeared with oil and dusted with flour), we prick it with a fork. We put the cheese stuffing in. We bake it for an hour in a heated oven – 180 degrees. After it cools down, we decorate it as we like – I personally make a chocolate milk frosting. Bon Appetit!