Osobiście nie jestem wielką fanką owoców morza, w przeciwieństwie do mojego męża, który je uwielbia. To właśnie Maciek zainspirował mnie do zrobienia tego dania, które jest bardzo łatwe w wykonaniu i zajmuje mniej niż pół godziny.
Składniki:
250 g świeżego czarnego makaronu z naturalnym barwnikiem z kałamarnicy
150 g świeżych oprawionych krewetek
mały pęczek natki pietruszki
8-10 pomidorków koktajlowych
1 świeże chilli
oliwa z czosnkiem lub zwykła oliwa z oliwek lub olej kokosowy + 2 ząbki czosnku
sól, pieprz do smaku
Personally I'm not the biggest fan of seafood, unlike my husband who loves it. Maciek was the one who inspired me to cook this dish, which happens to be easy to make and it takes less than half an hour.
Ingriedients:
250 g of fresh, black pasta with a natural squid ink
150 g fresh, cleaned shrimp
small bunch of parsley
8-10 cherry tomatoes
1 fresh chili
options: olive oil or olive oil with garlic, or coconut oil + two cloves of garlic
salt, pepper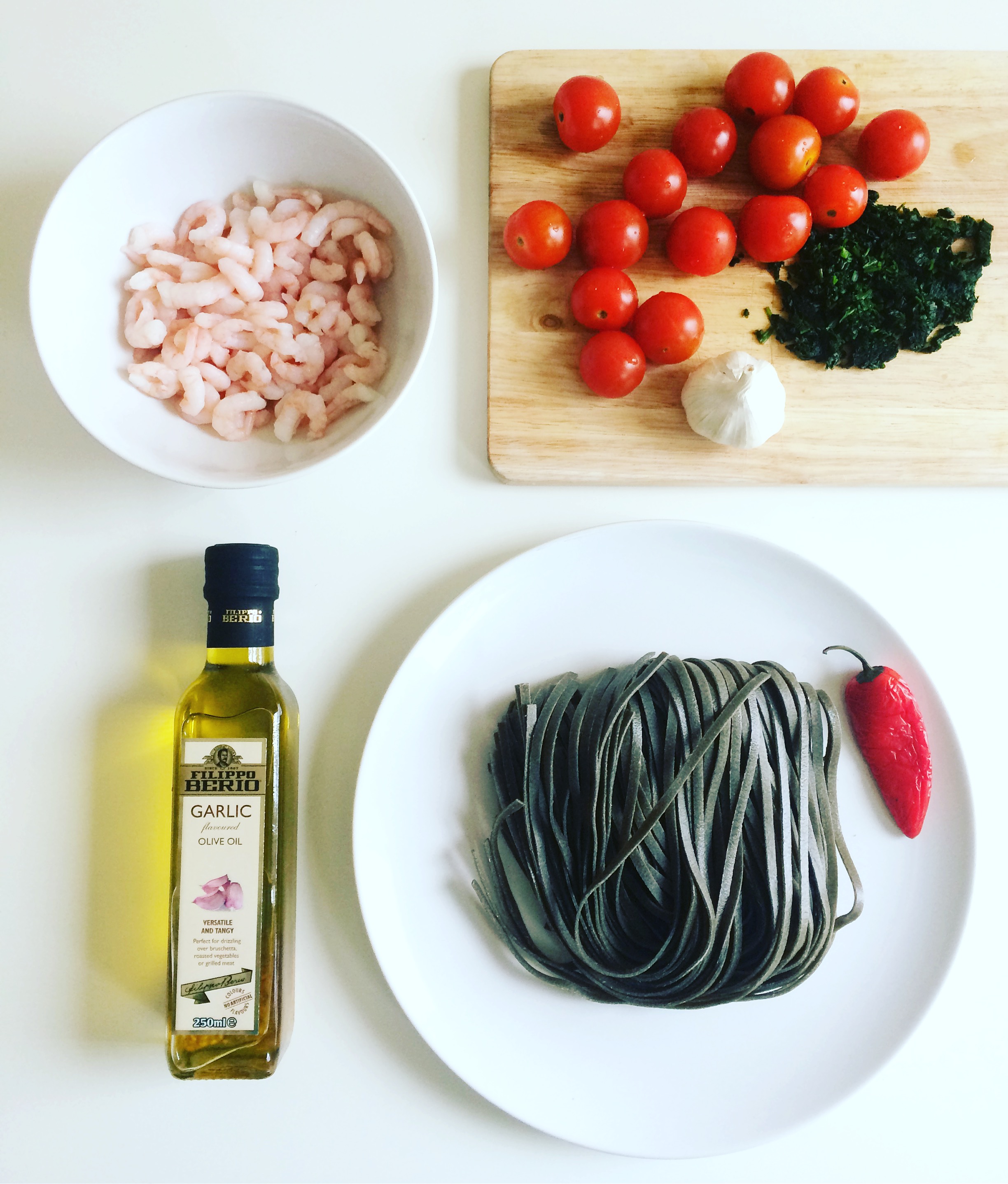 Makaron gotujemy około trzech minut w lekko osolonej wodzie, odcedzamy. Na patelnię wlewamy odrobinę oliwy z czosnkiem (3 łyżki). Jeśli używamy zwykłej oliwy z oliwek lub oleju kokosowego dodajemy 2 przeciśnięte przez praskę ząbki czosnku (czosnek dodaję zwykle w ostatniej fazie smażenia, 2-3 minuty przed końcem). Na rozgrzaną patelnię z oliwą kładziemy krewetki, uprzednio sparzone wrzątkiem i osuszone na durszlaku. Smażymy chwilę (2-3 minuty), aż się ładnie zarumienią, dodajemy drobno posiekane chilli i przecięte na pół pomidorki koktajlowe. Po kilku minutach dodajemy makaron i posiekaną natkę pietruszki, doprawiamy solą i pieprzem do smaku. Danie jest już gotowe, przekładamy na talerz i serwujemy najlepiej z białym winem 🙂
You boil the pasta for about 3 minutes in salty water, then you drain it. You put a little bit of olive oil on the frying pan ( 3 spoons). If you use regular oil or coconut oil, you may add some pressed garlic (I like to put the garlic 2-3 minutes before the end of frying). When the frying pan is heated I put the shrimp in – blanched before in boiling water, and drained on a colander. I fry the shrimp 2-3 minutes till it gets slightly red, then I put chopped chili and cut in half cherry tomatoes. After few minutes I add the pasta and sprinkle it with chopped parsley. You may put some salt and pepper for a better taste and then the course is ready. Put it on a nice plate and serve it with white wine 🙂